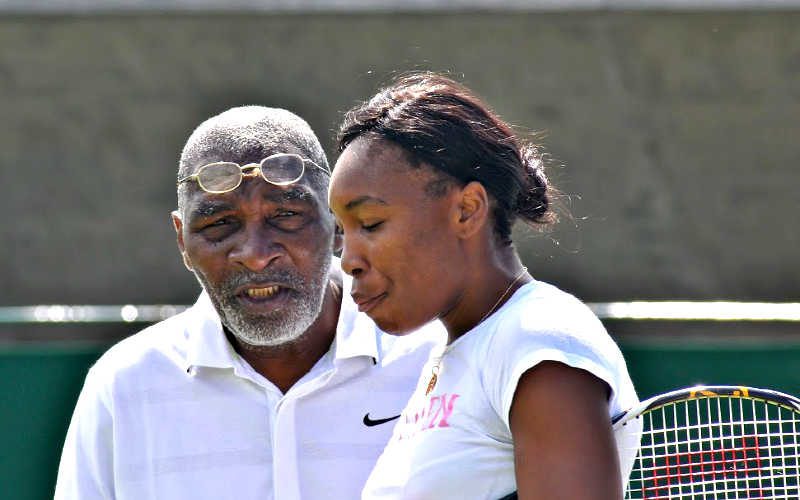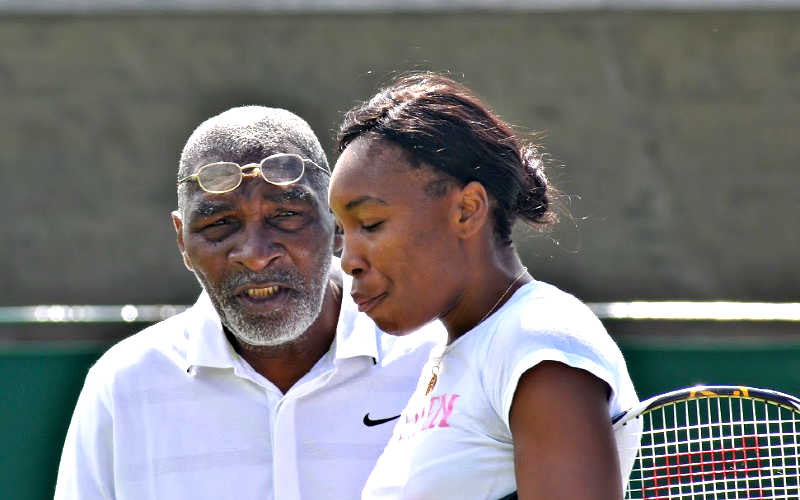 There's no denying the impact of a positive relationship with one's dad, especially for female athletes whose dads often championed their athletic abilities from the time they first picked up a ball or racket. Some female athletes are so close to their dads, they've chosen their dad to be their coach.
Athletes like Serena and Venus Williams were famously close with their dad, Richard Williams, from the time they first stepped on the tennis court. When his daughters first came on to the tennis scene Richard was nearly as famous as his kids. Tennis star Coco Gauff calls her dad, Corey Gauff, coach. And Naomi Osaka's dad is her coach, too. And athletes like Lindsey Vonn, Megan Rapinoe and USWNT's Alex Morgan are notoriously close to their dads.
For many female athletes dad is a fixture on the sidelines, always there to offer support, feedback and comfort in the event the game didn't go her way. We love watching these father/daughter relationships between these amazing athletes and their dads. It's enough to make us want to pick up the phone and call our dads, too.
Richard Williams Was Serena And Venus' First Coach
Even though the pro tennis season has been temporarily suspended it's impossible to imagine women's professional tennis without the Williams sisters, Venus and Serena. During a time when it was rare to see an African American tennis player, Richard pushed his daughters toward success.
In 2019, Serena paid tribute to her dad at the U.S. Open She told ESPN:
"My dad is amazing. I could never have done what he has done, not only with myself but with Venus."
And while Richard, who is now in his 80's, is no longer Venus or Serena's coach he's still an important presence in their careers. Serena said:
"Yeah, he still comes to watch us train and that's like the best time because we get to hang out. Now, training has become less but that's what I want to do, hang out with my dad."
Lindsey Vonn's Dad Alan Kildow Taught Her To Never Give Up
The Olympic gold medalist got her love of skiing from her dad, Alan Kildow, who even trained with the same coach as his daughter until a knee injury sidelined his alpine dreams. Over the years Vonn's relationship with her dad grew strained over her marriage to now ex-husband Thomas Vonn, whom she met when she was 17 and he was 26.
In recent years, Vonn and her father have worked to repair their relationship. He was often a fixture at Linsey's competitions until she retired from professional skiing in 2019.
Alex Morgan's Dad Michael Played An Important Role In Her Career
The USWNT star, who grew up in Southern California, often credits her parens Michael and Pamela Morgan with her success. Michael Morgan actually ran a construction business and learned about soccer to connect with Alex. He even coached her youth soccer teams.
Alex told the Player's Tribune what her dad's commitment meant to her. She said:
"A couple of times a week, my dad would pick me up from school and drive me to training. He had no clue about soccer, but he was so present, especially given what he was going through. He owned a construction business that was nearly bankrupt. He'd leave for work at 5 a.m., and yet he still had the energy to take me and six other girls to training, driving all over the city to pick them up. He kind of had to, really, otherwise we didn't have enough players for a full team.
Megan Rapinoe's Dad Jim Is The Proudest Dad In America
The vocal star of the USWNT who has been outspoken about the women's fight for equal pay and LGBTQ rights, admitted that she and her father Jim don't agree when it comes to politics. In 2019 Megan admitted "my parents probably voted for Trump" and she said they watch Fox News regularly, which relentlessly covered Trump's oft-Twitter takedowns of Rapinoe.
Despite those political differences, Megan's dad watches her games from his home in Southern California stating, "I'm the proudest dad in America." Well, at least one of them.
Sue Bird's Dad Taught Her To Enjoy Life Outside Of Basketball
The WNBA's oldest player, Seattle Storm's Sue Bird, can attribute some of that career longevity to her dad Hershel. Bird's dad taught her to enjoy life outside of basketball, which she claims has helped her sustain life in the WNBA since 2002.
Chloe Kim's Relationship With Her Dad Is Something To Aspire To
20-year-old snowboard sensation Chloe Kim has managed to dazzle the world with her boarding skills, but her dad will always be her biggest fan. Jong Jin Kim emigrated with Chloe's mom Boran in the 1980's from South Korea with nothing more than $700 to his name. For him, being able to say his daughter is an Olympic Gold Medalist is the ultimate American Dream. He said:
"We—an immigrant like me—we always say, 'the American dream."
Coco Gauff's Dad Corey Is Also Her Coach
Teenage tennis phenomenon Coco Gauff has her dad Corey to thank for her rise to the top of women's tennis. Gauff's dad Corey is also her coach. But even though Corey is in charge on and off the court, Coco still managed to speak up when her dad accidentally cursed on TV causing Coco to tell her dad, "You can't curse." We're guessing that probably won't happen again.
Sabrina Ionescu's Dad Inspired Her To Become One Of The Top Female Athletes
Long before Sabrina became a household name as the star of the Oregon Ducks basketball team and then going on to become the 2020 WNBA No. 1 draft choice, Ionescu was a kid with too much time on her hands. Dad Dan would drop Sabrina and her twin brother Eddy off at a local park in their hometown of Walnut Creek, California, where there was a choice of volleyball courts or basketball courts. Dan told the kids to entertain themselves for the day. Figuring it was easier to jump into a basketball game than a vollegball game, the kids chose to hoop it up. Sabrina quickly eclipsed the guys on the court and went on to transform women's college basketball in Oregon.
Naturally Dan never missed one of his daughter's game, driving hours from Northern California to Oregon to watch his daughter dominate on the court.
Sofia Kenin Calls Her Dad "Coach"
The No. 4 seeded female tennis star, Sofia Kenin, can thank her dad for her quick rise to success. Kenin's dad Alex is also her coach. Despite having little money when the family emigrated from Russia to the U.S., Alex recognized his daughter's tennis skills and arranged lessons for her in Florida.
But it was Alex's commitment to help Sofia achieve greatness, that helped her get where she is today. He said:
"All of a sudden I noticed that she started hitting the ball – at that point you can hardly call it hitting the ball – but at least she had great hand-eye coordination. We were in the strangest places all around the United States and I was driving at night to find some community where we could find a court to practice in the morning…"
Naomi Osaka Calls Her Dad "Annoying" But He Doesn't Mind
After parting ways with her longtime coach in September of 2019 22-year-old tennis sensation Naomi Osaka hired her dad, Leonard Francois, as her coach. Since then Osaka has excelled in every match she's played.
Speaking to reporters after the 2019 Australian Open, Osaka was asked about her new coach. She said:
"Yeah, for me, he kind of lets me do my own thing, which I like. Also I feel like I need structure a little bit because if I do my own thing for too long, I don't know, I feel like I need guidance or advice from someone, you know?"
Happy Father's Day to all of these fabulous dad and to all the fabulous fathers reading at home.
Image: Stuart Slavicky / Shutterstock.com