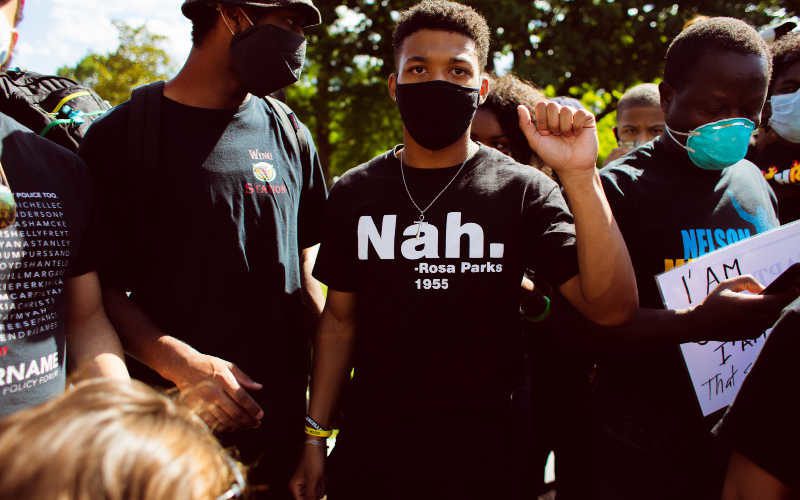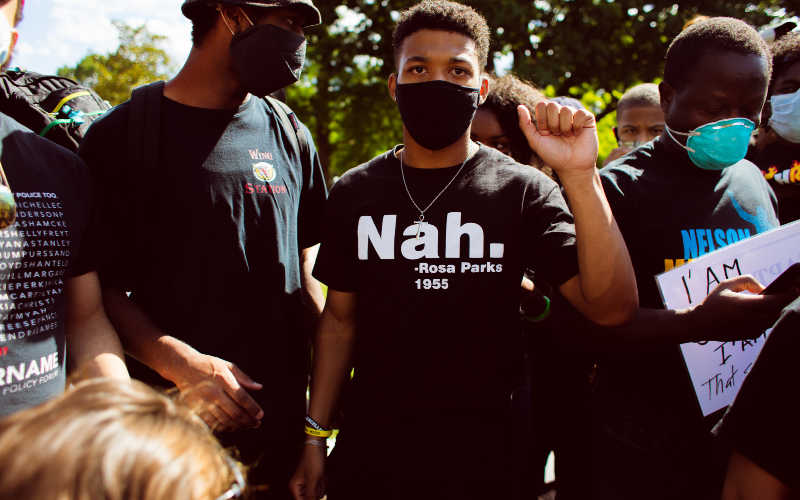 This week, as enraged citizens took to the streets, we also saw many star athletes marching in George Floyd protests. While some chose to remain anonymous, marching quietly alongside other citizens protesting racial inequality, others served as vocal leaders working toward change.
The most prominent athlete-activist has been Mr. Floyd's personal friend, former N.B.A. star Steven Jackson, who alongside the Timberwolves Karl-Anthony Townes was the first pro athlete to attend a protest. Jackson grew up with Mr. Floyd and called him "my twin." Jackson has led and spoken at a number of protest rallies.
Recently, Steven Jackson introduced the world to Mr. Floyd's six-year-old daughter Gianna. Sitting on top of Mr. Jackson's shoulders, Gianna proudly scanned a crowd of activists and said, "My daddy changed the world." Mr. Jackson has promised to have a role in raising Gianna, even stating that he'd be there to walk her down the aisle or watch her graduate since her father can't.
The Celtics' Jaylen Brown drove 15 hours from Boston to Atlanta to lead a peaceful protest this past weekend. The Celtics' guard is from Marietta, Georgia, and told the crowd:
"I drove 15 hours to get to Georgia, my community. This is a peaceful protest. Being a celebrity, being an NBA player, don't exclude me from no conversations at all. First and foremost, I'm a black man and I'm a member of this community. […] We're raising awareness for some of the injustices that we've been seeing. It's not OK."
The Hawks' Trae Young spoke at a rally in his hometown of Norman, Oklahoma. And while he said, "America is a messed up place," he added, "this is the first step."
Steph Kurry and Clay Thompson joined teammate Juan Toscano-Anderson's Walk In Unity event in Oakland, California to bring unity to the East Bay community.
The Celtics' Enes Kanter is no stranger to speaking up for civil rights and did not miss the opportunity this time. Wearing his Celtics jersey, Kanter spoke at a Boston rally asking those in attendance to "be on the right side of history."
The Celtics' guard Marcus Smart also attended a rally in Boston Common, commenting that Boston is his second home. When asked to give his reaction to seeing the video of George Floyd being pinned to the ground by four Minneapolis police officers he said:
"I wanted to cry, for the simple fact that that could've been me. That could've been my brother, could've been my dad, could've been my uncle. It's just terrifying to see as an African-American male … Because that lets me know that — and it lets me know and everyone around us — how terrified we are. "
Athletes have also used their social media platforms to speak up about police brutality and speak out on the death of George Floyd. Steph Curry, Le Bron James and Colin Kaepernick were quick to express outrage. While Joe Burrow and Carson Wentz were quick to express support. Pat Mahomes, Tiger Woods and Michael Jordan also expressed their outrage on their social media platforms.
NBA coaches like Steve Kerr and the Spurs' Gregg Popovich have been outspoken about Mr. Floyd's death and racial inequality in America, never shying away from taking a stand. And the Seawhawks' legendary coach Pete Carroll broke ranks in the N.F.L. and said "we owe a trendous amount" to Colin Kaepernick
But for athletes, protesting and speaking out does not come without a cost. Jaylen Brown was criticized by Celtics' legend Cedric Mawell who was proud of Brown for leading a protest, but disappointed Brown did not wear a mask while doing so.
When NASCAR star Tyler Reddick posted a tribute to George Floyd, his post was filled with comments like:
"What a way to kill your racing career."
"Don't get political. You just lost a fan."
"Long time fan, but if u agree with this black lives matter (expletive) … (expletive) you!"
Hopefully pro athletes will not let the critics mute their voices, though they may want to think about muting the comments.
Image: Johnny Silvercloud / Shutterstock.com