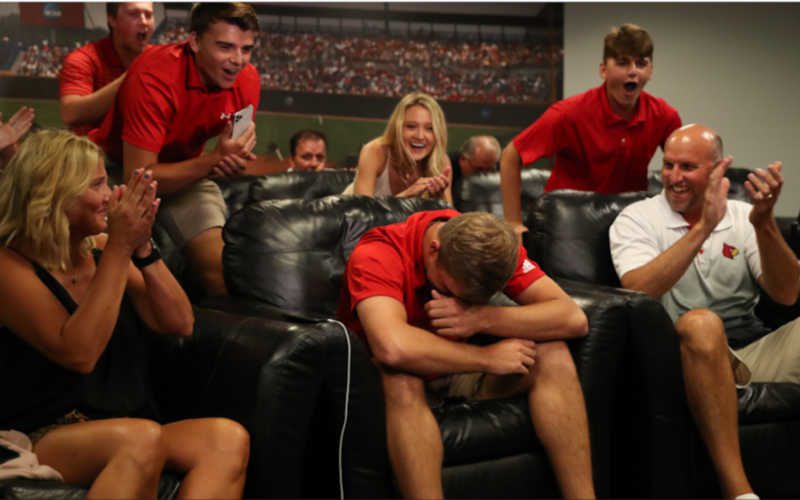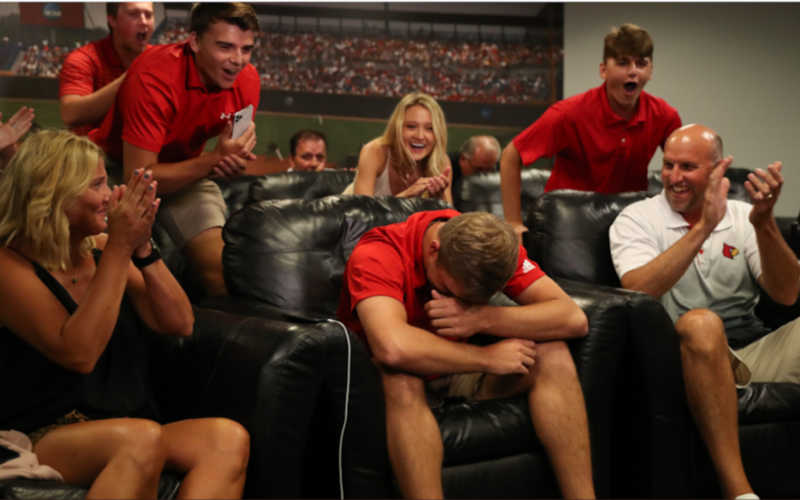 This week the virtual 2020 MLB draft was a total home run. And though this year's draft was shorter and smaller than previous years, downsized from 40 rounds to just five, the 160 players drafted saw the culmination of a lifetime of hard work come to fruition.
Teams threw a few curveballs into the 2020 draft. Vanderbilt's Austin Martin was expected be drafted first, but he surprisingly remained available until the Blue Jays had their pick at No. 5. The No. 1 draft pick was Arizona State's Spencer Torkelson. Arizona's star first baseman was actually chosen as third baseman. That's fine with Torkelson, who said he's ready to play anytime at any position.
No matter what round a player is chosen, it still marks the beginning of a career most kids can only dream of. We love seeing the pure joy these athletes feel as they get "the call" and find out they've joined the elite athletes chosen to go to the big leagues. It's impossible not to tear up a little watching parents' pride and joy knowing that all they've sacrificed and given up to raise a star athlete, has completely paid off.
No. 1 Spencer Torkelson Gets "The Call" From The Detroit Tigers
When the Detroit Tigers chose ASU's star first baseman at No. 1, they actually chose him to play third base. Torkelson has been compared to Ken Griffey Jr. or A-Rod, but Torkelson just wants to play ball at any position, at any time. He told MLB Network
"If you give me a bat, a ball and a glove, I just want to win."
The Orioles Choose Carter Baumler In The Fifth Round Of The 2020 MLB Draft
The Orioles' newest player, Carter Baumler, is just 18-years-old and fresh out of high school, but he's smart enough know not to skip college unless it's really worth it. So on draft day, when two teams offered him a contract lower than he felt he was worth, the Iowa native passed knowing he had a great offer ahead from Texas Christian University. But when the Orioles called in the fifth round, they made an offer Baumler couldn't refuse. Smart kid.
The Padres Choose Robert Hassell
Tennesse high school student, Robert Hassell III, is the newest member of the San Diego Padres. The left-handed outfielder was the first high schooler taken in the draft.
Bobby Miller Goes To The Dodgers
The 2020 MLB draft is not actually Louisville slugger Bobby Miller's first draft. The star pitcher entered the 2017 draft and was selected by the Orioles. Miller declined, intent on attending Louisville and improving his game. The Dodgers selected him this year at No. 29.
Emerson Hancock Gets A Call From The Entire Coaching Staff
Pitcher Emerson Hancock is known for his fastball, which he's had plenty of time to perfect while at the University of Georgia. The Seattle Mariners chose him 6th overall, which came with a personal call from the entire organization.
White Sox Say "Hat's Off" To Jared Kelly
Despite already committing to the University of Texas, Jared Kelly couldn't refuse the White Sox's second round offer. And judging by how quickly he got that hat on, he was ready.
Garrett Crochet
The star pitcher from the University of Tennessee used his tenure at the school to improve the speed of his pitch. That paid off. The White Sox picked Crochet early in the draft and the team's GM and scouting staff were virtually there to congratulate him.
Baron Radcliff Gets The Ultimate 2020 MLB Draft Call From New Teammate Bryce Harper
The Phillies used their fifth round pick to draft Georgia Tech's star outfielder, Brandon Radcliff. If that's not exciting enough, Radcliff's evening ended with a call from his new teammate Bryce Harper. Very cool.
Image: LouisveilleBSB/Twitter