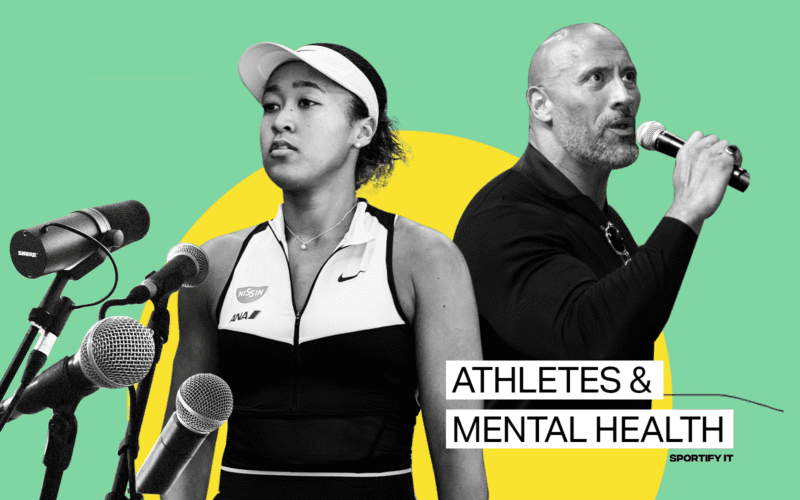 While the world responded with shock and sometimes disdain to tennis star Naomi Osaka's announcement she was dropping out of the French Open for personal reasons, Osaka added herself to the growing list of professional athletes who have talked about mental health. From Cleveland Cavaliers star Kevin Love, Olympic gold medalist Lindsey Vonn, to 28-time Olympic medalist Michael Phelps, star athletes are bravely putting themselves at the forefront of a movement to take away the stigma of anxiety and depression while providing inspiration and encouragement for others to seek help for their own mental health battles.
At the beginning of her career Lindsey Vonn, a 3-time Olympic gold medalist, saw speaking about the depression she battled as a sign of weakness telling USA TODAY Sports, "I wish I had been able to – or been strong enough to talk about it back in the early parts of my career." Vonn credits support from others as she got older with giving her the strength and courage to speak openly about her own mental health battles stating, "I feel like, honestly, everyone should have a therapist."
Swimmer Michael Phelps, the most decorated Olympian of all time, Cleveland Cavaliers star Kevin Love, who won the NBA championship in 2016, and San Antonio Spurs star DeMar DeRozan have been the most outspoken male athletes to open up about their own mental health issues, encouraging other men to seek help and support. Love, who suffered a panic attack during a 2017 game against the Atlanta Hawks, became the NBA's unofficial mental health ambassador when he published a first-person essay for the Player's Tribune detailing his lifelong battle with anxiety and depression titled, "Everybody's Going Through Something."
Love, like so many professional athletes, cites the stigma of appearing weak as the main reason he didn't initially seek help or speak to others about the social anxiety he suffered since he was a child. But in speaking out and seeking help, the sports world's biggest stars are helping fans find the strength they need to seek help as well. There's nothing weak about that.
ATHLETES WHO HAVE TALKED ABOUT MENTAL HEALTH
DWAYNE "THE ROCK" JOHNSON
The Rock proved that no one is immune to mental health struggles when he opened up about his own bouts of anxiety and depression stemming back to his days playing college football for the University of Miami. A football standout in college, Johnson's NFL dreams were sidelined by injuries that prevented him from being chosen in the 1995 NFL Draft. After a few months playing for the Canadian Football League, Johnson was cut and his football career came to an end. Johnson cites getting injured and his mother's suicide attempt when he was 15 years old as events that caused him bouts of depression and anxiety.
Years later Johnson began to realize the power of sharing his own story, even making it a central plot point in his hit sitcom "Young Rock." Johnson has helped to break the stigma that getting mental health assistance isn't masculine and continues to share his story.
LINDSEY VONN
On the precipice of the Tokyo Games Vonn, who retired from competition in February, 2019, is eager to speak about mental health and the unique mental health issues athletes face both before and after competition. In fact the three-time Olympic gold medalist thinks having a therapist should be as matter-of-fact as having a dentist or doctor. She told USA TODAY, "We should all take mental health seriously and do our best every day to make sure we're taking care of it."
In 2012, Vonn revealed she had suffered depression for over a decade, even sharing that she'd been taking anti-depressants to manage symptoms she says run in her family. Vonn not only turned to therapy and anti-depressants, she leans on her beloved three dogs for emotional support.
MICHAEL PHELPS TALKS ABOUT MENTAL HEALTH
He may be the most decorated Olympic athlete of all time ,but at one point Michael Phelps' battle with depression and anxiety got so bad he considered taking his own life. At a conference for the Kennedy Forum, Phelps confessed he fell into a "major state of depression" after every Olympics. Phelps, who was charged with driving under the influence in 2004 and photographed smoking from a bong a few years later, used drugs and alcohol as a way to self-medicate and help him escape his feelings.
Phelps recalls that after the 2012 Olympics he suffered the "hardest fall", resulting in him contemplating ending his life. That's when the 28-time Olympic medalist knew he needed to get himself, seeking in-patient treatment that helped him get comfortable talking about his feelings.
Today, the father of three boys knows "it's okay not to be ok" and has become a staunch advocate and spokesperson for mental health.
KEVIN LOVE INSPIRES ATHLETES WHO HAVE HAD DEPRESSION TO SPEAK UP
The Cleveland Cavaliers' Kevin Love had suffered in silence for most of his life, relying on basketball to manage what he calls a lifelong battle with social anxiety. After he suffered a panic attack during a game against the Atlanta Hawks Love left the game, facing questions and criticism from teammates who didn't know he suffered from depression, Love began to speak out. Love became the NBA's face of mental health when he published a first-person essay for the Player's Tribune, followed by a compelling interview with ESPN's Jackie MacMullan pulling the veil off depression and anxiety in pro sports.
Love encourages others to "speak your truth" and credits speaking out and helping others with brining him peace.
SERENA WILLIAMS
Despite being one of the most successful athletes of all time, and definitely on any G.O.A.T. nomination short list, tennis star Serena Williams revealed in 2011 she had suffered depression since losing Wimbledon. Throughout her storied career since then, Williams has taken breaks to deal with depression, even suffering from what she called "postpartum emotions" following the birth of daughter Olympia in 2017. A year after Olympia's birth, Williams revealed she was still grappling with the highs and lows of depression in a revealing Instagram post.
Williams credits communication and therapy with helping her manage depression, while sometimes going so far as to step away from tennis in order to get her mind right.
NAOMI OSAKA TAKES A BREAK
The tennis world's reigning queen shocked the sports world in June when she announced she wouldn't be participating in any media interviews during the 2021 French Open citing social anxiety and a need to protect herself from relentless negative questions from journalists prior to each match. Osaka was then fined and criticized by the organizers of the French Open, her desire to protect her mental health during competition treated as a threat rather than what it was–an act of self-care.
Seeing herself as a distraction from competition Osaka quietly pulled out of the French Open, later opting out of Wimbledon as well. Stating she would be taking a break from tennis, Osaka still plans on competing in the Tokyo Summer Games during which she'll represent Japan.
THE SAN ANTONIO SPURS' DEMAR DEROZAN OPENS UP
The Spurs and former Toronto Raptors star DeMar DeRozan has always seemed larger than life, even invincible, as one of the NBA's most sought after players. But during the 2018 offseason, faced with down time and a break from distractions of the NBA grind, the star forward found himself in a deep depression. Seemingly out of nowhere, the then 28-year-old star took to Twitter to share what he was going through.
While DeRozan's tweet took fans and teammates by surprise the Compton, California native told the Toronto Star, "It's not nothing I'm against or ashamed of. Now, at my age, I understand how many people go through it. Even if it's just somebody can look at it like, 'He goes through it and he's still out there being successful and doing this,' I'm OK with that."
PAUL PIERCE TALKS ABOUT DEPRESSION AND ANXIETY
Retired Boston Celtics forward Paul Pierce opened up in 2018 about his battle with depression, stemming from a 2000 incident in which he was stabbed 11 times at a Boston nightclub. Pierce suffered a collapsed lung that resulted in emergency room surgery. Miraculously, Pierce recovered to play all 82 games that season. Privately, however, he was struggling with anxiety made worse by a death threat he received at home a few months after the incident.
Despite the Celtics encouraging Pierce to seek professional help, the NBA star chose to manage his anxiety on his own because "he didn't want anybody else in his business."
Pierce, who says basketball saved him, regrets not opening up about his private battle sooner telling ESPN, "I should have opened up earlier than I did. It was eating me alive. Once I finally started talking to a family member, it helped me."
RONDA ROUSEY HAD TO LEARN HOW TO LOSE
Once regarded as one of the world's most dominant athletes, ex-UFC champion Ronda Rousey contemplated suicide after her 2016 UFC knockout defeat to Holly Holm. Rousey who was raised by her mother, former judo champion Dr. AnnMaria De Mars, told the Guardian, "One thing my mother never taught me was how to lose. She never wanted me to entertain it as a possibility."
Faced with the biggest loss of her career, Rousey went into a deep depression she says lasted two years. As she moved on movie roles, a career in e-gaming, and stints with the WWE, Rousey credits the support of husband Travis Browne with helping her through those dark times.
DAK PRESCOTT GETS REAL ABOUT HIS BROTHER'S DEPRESSION
Dallas Cowboys quarterback Dak Prescott spoke openly about dealing with depression in the spring of 2020 after his beloved brother Jace took his own life. Following his brother's suicide and their mother's cancer-related death, Prescott said he dealt with anxiety and depression and urged others to seek the help they need. In an interview for "In Depth With Graham Bensinger," Prescott spoke openly stating isolation due to quarantines exacerbated anxiety for him. "It creates new emotions — emotions that I've never felt before but obviously dealt with," he said. "And I obviously got the help that I needed and was very open about it. I think that's why I was fortunate enough to get over it, as not all of us are."
Prescott received an outpouring of support from fans and teammates, but "Undisputed" host Skip Bayless criticized the two-time Pro Bowler and questioned Prescott's ability to lead his team. Bayless said, "I don't have sympathy for him going public with 'I got depressed, I suffered depression early in COVID to the point that I couldn't even go work out,'" Bayless said. "Look, he's the quarterback of America's team. You know and I know the sport that you play, it is dog eat dog. It is no compassion."
The sports world was quick to rally in support of Prescott, who singlehandedly took away the stigma of depression and anxiety in the NFL. That, by definition, is anything but weak.
For anyone interested in mental health issues or experiencing problems, visit the National Institute of Mental Health website. For those in need of immediate help, call the National Suicide Prevention Lifeline at 1-800-273-TALK (8255).