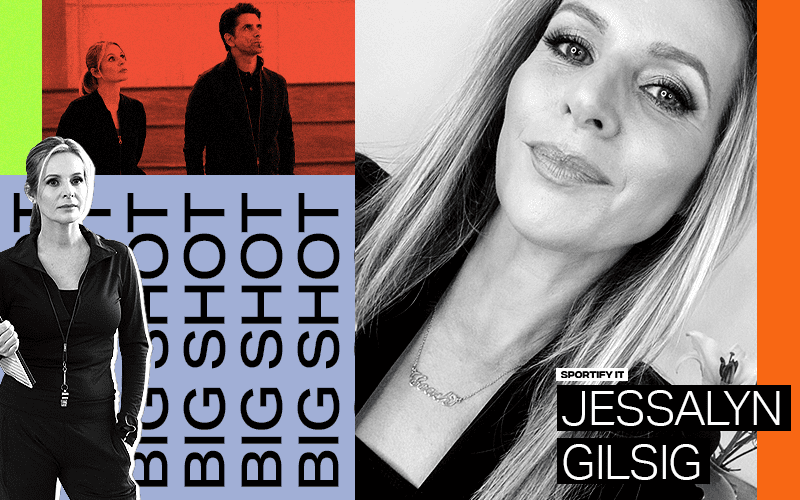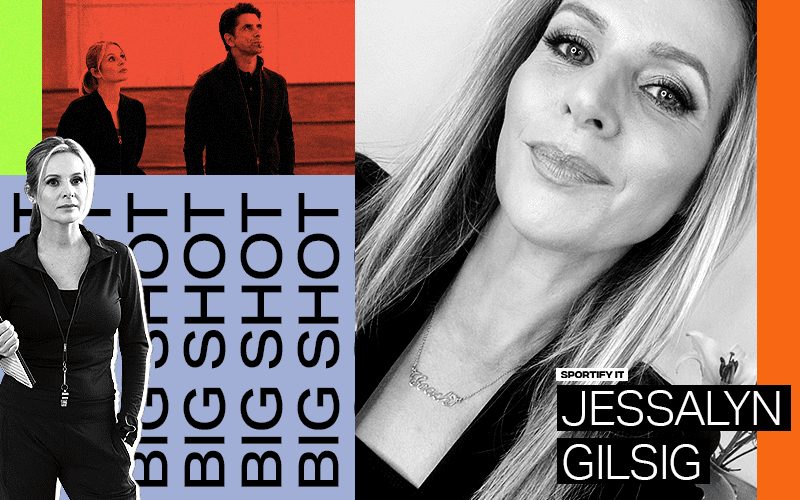 Actress Jessalyn Gilsig is no stranger to getting a big shot.   The former GLEE star has made a career out of scene-stealing roles written by dream creators like David Kelly and Ryan Murphy, who have made her their go-to when they need an actress who's as emotionally deep as she is witty and beautiful.  Now Jessalyn's starring on Kelly's heartfelt new Disney Plus show Big Shot, this time playing high school basketball coach Holly Barrett opposite Full House alum John Stamos. 
Jessalyn is cautiously excited about Big Shot knowing full well, having done it before, that starring on a David Kelly show is about a sure thing for success on screen as putting a basketball in Steph Curry's hand and hoping for a 3-pointer.  It's not a guarantee, but it's probably going to happen. 
I met Jessalyn five years ago in a musty Los Angeles gym at a fitness bootcamp for which she and I had both signed up. The drill sergeant of a trainer had all twenty of us running for time on a bumpy mid-city block filled with cracks and tree roots.  It was inevitable that someone was going to twist an ankle or fall knee-first on to the ground. As we all took off Jessalyn went flying, a twisted ankle sending her down on to the sidewalk.  The rest of us gasped but Jessalyn brushed herself off, kept going, and finished the run.  She never mentioned it again despite the swollen ankle that dogged her the rest of the morning.
Prior to sharing sidewalk runs through Los Angeles, I had been a fan of Jessalyn's. Her performance as Matthew Morrison's conniving ex-wife Terri Schuester on GLEE was indelible.  In a cast of dozens Jessalyn not only stood out, she gracefully stole the show.  Mention her name to others and a debate will ensue, a battle of which Jessalyn Gilsig role was her best. "Oh, I loved her on Boston Public",  one will way.  "She was so good on Vikings", will be followed by, "but Nip/Tuck was also so good."  It can go on like that for a while.
Jessalyn and I remained friends post-bootcamp and the image of her picking herself up off that Los Angeles sidewalk has always stuck with me.  Most actors live life like the camera is, or always should be, on them.  But Jessalyn is a deeply contemplative professional who is serious about her work without taking herself too seriously.  She saves drama for her work, for which she is deeply passionate. 
When I ask her to speak to Sporitfy It about her new sports-themed show she immediately replies, "Anything for you."  I look forward to our conversation, she being one of those friends you can speak to everyday or once a year and you'll never lose track nor will you ever have enough time.  I'm anxious to talk to her about working with Kelly again, what sports she follows, how she's survived parenting during a pandemic, and whether or not she's John Stamos' love interest on Big Shot.
"I'm so excited for people to see it," Jessalyn tells me on a sunny March day, each of us Zoom'ing  from home.  "It's David Kelly so it's character-based and it's really how this coach collides with this girls school.  He grows, but we grow individually in our characters."  
"This coach" is Stamos' Marvyn Corn, a recently fired hot head NCAA basketball coach who becomes the basketball coach of a girls high school. Gilsig's Holly Barrett is the school's assistant basketball coach who has the all-too-relatable epiphany that most working women have. Why him and not me?
"I'm the assistant coach, " Jessalyn explains.  "He comes in because the main coach has been dismissed.  My character starts to wonder why she doesn't have his job.  Why didn't she get promoted?  Through him coming in, there's a conflict because his big career reengages my character's ambition."
I want to ask Jess about the potential romance for she and Stamos on the show, but this doesn't feel like the time.  Having found success in Hollywood for over two decades, Jessalyn relates to her character's journey as if it were her own.   "These past few years have been a revelation of how deep I've gotten in this career and yet how gender was always a barrier. It's almost like something I've had to mourn in the past few years. Now It energizes me," she says with emotion.  "Previously my contributions were in performance, but not actually speaking up. These shifts have made it more possible for me to do that."
Jessalyn attributes these "shifts" in Hollywood to a more diverse power structure. "When you see yourself in positions of power you feel like those people are accessible.  Having that diversity means that everyone feels they have an avenue where they can reach out.  When you don't have that you feel like that power Is not available to you."
She also credits Stamos with creating an environment in which she feels others can do good work. "John is instrumental in that," she tells me. "He's the lead.  He's open to collaboration, which makes it easier."
The conversation segues from the changing tides in Hollywood to our daughters and the opportunity we both see for our own girls to grow up less "muted" than we did.   Jessalyn is the rare combination of driven actor and thoughtful mother and knows having consistent work in Hollywood, especially during a pandemic, is fortunate.  "I'm driven by motherhood, but I'm also driven by ambition.  I felt lucky because work gives me so much."
Talking to Jessalyn it's clear she knows she's fortunate, but it's also clear her career in Hollywood has nothing to do with luck.  Jessalyn is that runner tumbling on the street, picking herself up, finishing with no drama. She is reliable, deep, serious, funny, and remarkably talented. What she has, she's earned.
Before we say goodbye, I finally ask Jess if she and Stamos are love interests on Big Shot.  She smiles coyly and says, "Not so far." 
I guess we'll just have to watch and see.
Big Shot is available on Disney Plus starting Friday April 16th. 
Image: Disney, Art: Sportify It