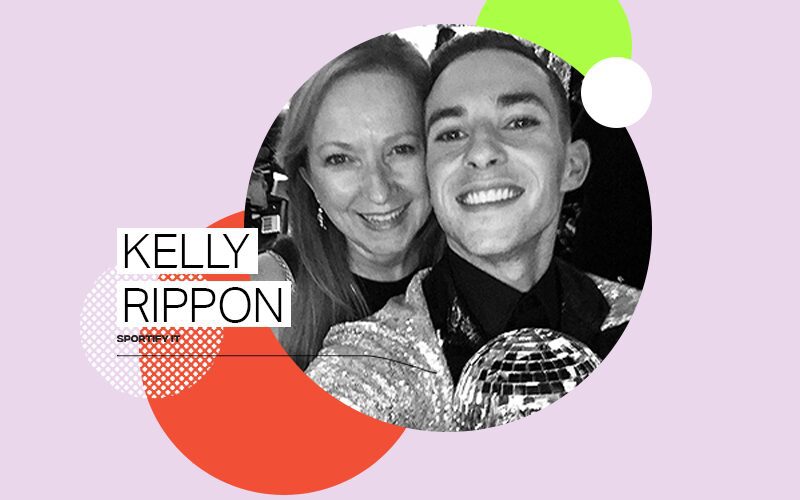 Adam Rippon's mom Kelly is an expert at raising champions. It's not just that her son, Olympic bronze medalist in figure skating and Dancing With The Stars Mirror Ball winner Adam Rippon, became the darling of the 2018 Winter Games in  Pyeongchang, South Korea. But Kelly, whose new book Parent Up: Inspire Your Child To Be Their Best Self was released in December, 2020, raised six children who have all pursued differing but equally-excellent paths. Parent Up is the perfect parenting bible for those wanting to know Kelly's secret sauce to raising excellent children.
While Kelly made headlines as Olympian Adam Rippon's mom, she's a consultant and motivational speaker who believes that a parent's job is "not to muck up their children". The single mom, who did a professional pivot and earned her Master's Degree in order to ease her own stress and make life less stressful for her six children after her divorce, has strong feelings about why her children are all high-achievers and how others can raise their kids to be their best.
So what is Kelly's secret? We're so glad you asked.
Meet Adam Rippon's mom Kelly: gold medal mom.
Kelly Rippon's Parenting Journey
"When I got divorced my kids were ages 3, 5 7, 9, 11, and 13. My main role was to make sure the transition was smooth and they didn't think the family was breaking up.  It was the boyfriend/girlfriend relationship of the mother and father.  They still had a mother and father, but their mom and dad weren't going to be girlfriend and boyfriend anymore.

"In the beginning we tried to be like most divorced couples, 50/50. That lasted two weeks.  Then we had to sit down and see what was the best for the kids.  What was best was that they were with me and then on Friday they went out with him and came back on Saturday.
What Makes A Champion
"I knew Adam was a champion, I didn't know at what.  There are so many talented kids.  If you don't have talent, combined with a good attitude, a resilient mindset, and an incredible work ethic, you don't have a champion.  You can't get to the Olympics on talent alone.
How To "Parent Up"
"It is not a parenting book.  I would not be bold enough to write a how to anything book.  We are all so dynamic and diverse, there isn't one way. 

"When I say 'Parent Up' I mean stand up.  When you parent, when you lift others around you, you create a force so powerful you rise up with them.  When you are setting an example for your kids you can't help but become an example for yourself.   When you are confident, they feel confident and safe.  When they feel confident, they'll take more risks.  They will raise their hand more.  They won't keep their phone with them waiting for so and so to call.
How To Raise A Champion
"Raise kids to think the world is on their side.  It's not fair, but it's fair enough to wedge yourself in and get a shot at something.  If you raise kids to feel hopeful, they can do anything."
Parent Up is available here.