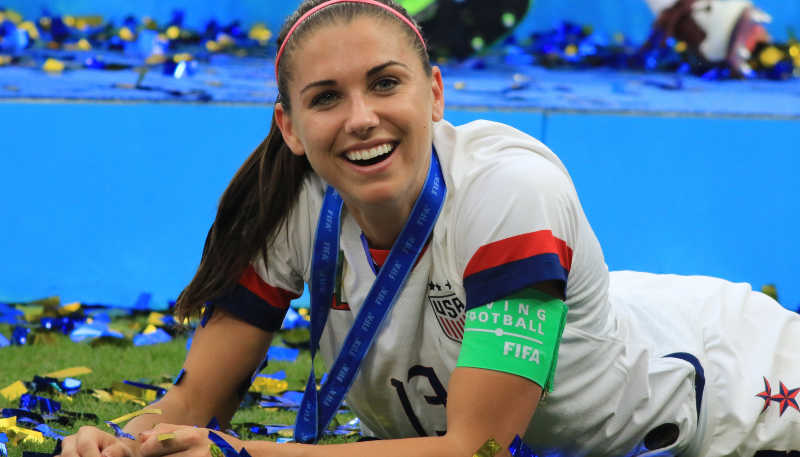 USWNT star Alex Morgan is crushing her workouts these days, but she's just one of many athletes who trained while pregnant. Morgan announced in October that she and husband, Galaxy midfielder Servando Carrasco, were having a baby girl this spring. Morgan's due any day now, and not only did she practice with the team until her seventh month, she still regularly posts workout videos featuring kettle bell and sculpting workouts.
It was exceptional to see Morgan practicing with the team , but Morgan's actually one of many sports stars whose pregnancy hasn't slowed them down.  Some athletes, like soccer star Christie Rampone, actually played the same if not better since becoming a mom. WNBA player Skylar Diggins-Smith, who then played for the Dallas Wings, made the All-Star team in 2018 while pregnant. Track star Alysia Montano competed in the U.S. Track and Field Championships while 5 months pregnant.
Morgan's former teammate Hope Solo just gave birth to boy and girl twins in early March.  And judging by the sweet video she posted introducing babies Vittorio Genghis Stevens and Lozen Orianna Judith Stevens to the world, Hope Solo's pregnancy fitness regime was Olympic caliber as well.
But for female athletes, the choice to compete while pregnant isn't always a choice.  Alysia Montana saw her Nike sponsorship fall away when she got pregnant.  She documented the experience in a riveting NY Times article. Montana, along with Olympian Alysson Felix and Kara Goucher have banded together to fight the infamous "pregnancy clause" in sponsorship contracts that allows sponsors to penalize or drop an athlete who becomes pregnant during her contract.
And while USWNT members like Morgan have been outspoken and unrelenting in their pursuit of equal pay, Morgan is also a trailblazer when it comes to the rights of pregnant athletes.  In February she signed a new sponsorship deal with Nike that guarantees her salary for 18 months, whether she's pregnant or not.
Morgan joins a group of fierce, fabulous women who trained and played pregnant. Let's meet them.
Alysia Montano aka "The Pregnant Runner" Makes History
8-time 800 meter champion, Montana competed in the 2017 USATF Outdoor Championships while five months pregnant. In 2014, she ran the preliminaries while while 8-months pregnant. A year later, she returned to win the gold in the USATF 800m finals.
In 2020 Montana, along with runner Tina Muir, signed a sponsorship deal with Altra shoe company. The Altra shoe deal marks the first time two athletes have been signed to a sponsorship deal while pregnant.
Kara Goucher Ran The Same Day She Gave Birth
For marathon runner Kara Goucher, who went for a run the same day she gave birth to son Colt, training never slowed down due to pregnancy. The elite marathoner and former Olympian trained 60-80 miles per week while pregnant, but also embraced scaling back when her body needed it.
UFC Fighter Nina Ansanoff Is Pregnant But Not Slowing Down
When UFC fighter Nina Ansanoff announced she and longtime partner UFC fighter Amanda Nunes were expecting a baby together, Ansanoff also said she'd be training through her pregnancy. Ansanoff told her Instagram followers she would continue to fight after the birth of her daughter in September of 2020.
The WNBA's Skylar Diggins-Smith Made The All-Star Team While Pregnant
WNBA players have a new contract this year. After a hard fought battle, the athletes finally have guaranteed compensation in the event they are pregnant. Diggins-Smith, The Phoenix Mercury star was recently traded from Dallas, admits she played the entire 2018 season pregnant and "didn't tell a soul." She made the All-Star team the very same year.
Olympic Track Star Alysson Felix Sets A New Standard
Felix may be the most successful female Olympic athletes of all time, but she's also a trailblazer in rights for pregnant athletes. In 2019, Felix documented her "heartbreaking" negotiations with then-sponsor Nike who wanted her to take a 70% pay cut should she get pregnant.
Nike wouldn't change its stance and Felix ended up signing with Athleta. After all the unwelcome attention brought on by Felix and Motona's allegations, Nike has since changes its maternity policy in sponsorship deals. Felix is a 6-time gold medalist and an 11-time world champion.
Hockey Star Twins Jocelyne Lamoureux-Davidson and Monique Lamoureux-Morando Train Together While Pregnant
Gold medalists in hockey for the U.S. Olympic team in Bejing, the Lamroueaux twins are used to doing everything together. So when it came time to start families, and to train while doing it, naturally they did it at the same time. The twins used weight lifting and flexibility training to stay strong throughout each pregnancy.