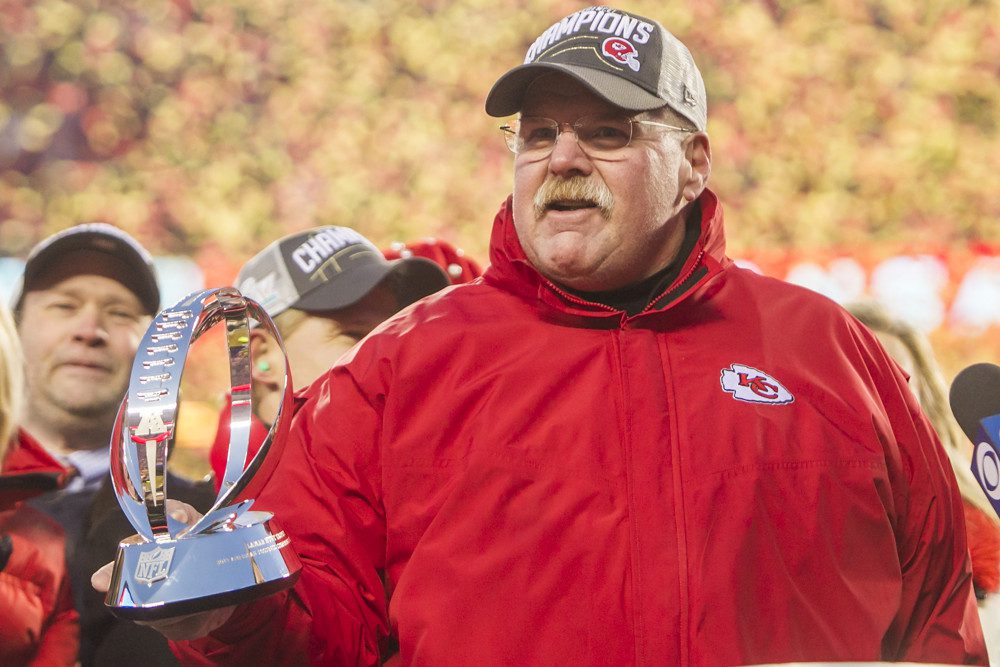 Kansas City Chiefs head coach Andy Reid is known for his simple, yet completely relatable post-Super Bowl celebrations. In 2019 he earned his first Super Bowl victory when the Chiefs beat the San Francisco 49ers in Super Bowl LIV. After the game, the 65-year-old hilariously told journalists he planned to celebrate the Chiefs' Super Bowl victory by getting "the biggest cheeseburger you've ever seen." Following the Chiefs' Super Bowl LVII win over the Philadelphia Eagles Sunday, Kansas City's favorite coach kept his celebration simple once again.
"Yeah, I went to Pizza 51," Reid explained Tuesday. "I got a mushroom and sausage pizza. How about that? And a salad just to make my chubbiness feel good."
Terry Bradshaw Faces Backlash For Post-Game Comments To Andy Reid
Reid's comments came just days after former Steelers quarterback and FOX commentator Terry Bradshaw caught serious heat for seemingly fat-shaming Reid after Sunday's game.
"Big guy. Let me get the big guy in here," Bradshaw said as he tried to get Reid's attention during the Super Bowl LVII Lombardi Trophy presentation ceremony. "Come on, waddle over here."
Fans Call For FOX To Fire Terry Bradshaw
Outraged fans are now calling for Bradshaw to be removed from his position as an NFL analyst, a job he's held since retiring from the NFL in 1994.
Andy Reid has yet to respond to Terry Bradshaw's comments.
Image:  Nick Tre. Smith/Icon Sportswire