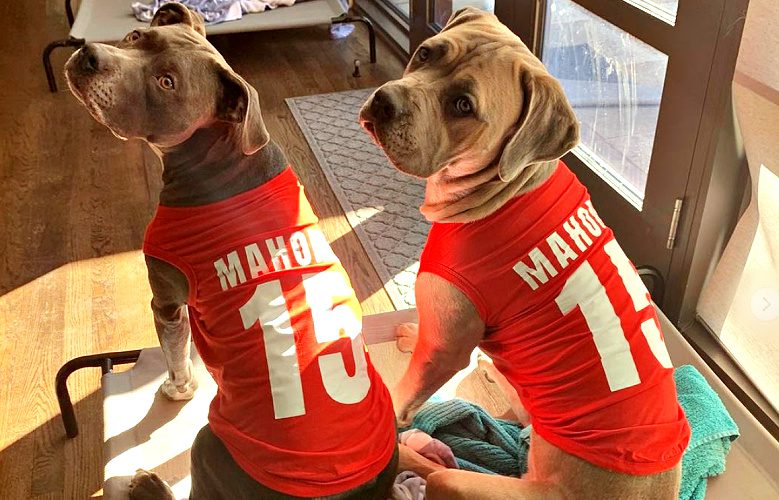 When it came time to let well-wishers know he was on the road to recovery following his February car accident, golf great Tiger Woods shared a photo via Instagram introducing the world to his "rehab partner" Bugs. Bugs isn't a skilled trainer or a medical expert. In fact, Bugs isn't human at all. Woods' rehab partner is his dog, a Border Collie and Springer Spaniel Mix. Woods called Bugs "man's best friend" and he's not alone. When it come to pro athletes and their dogs, the sports world's biggest stars rely on their furry friends as the ultimate teammates.
Olympic gold medalist Lyndsey Vonn loves her dog Lucy so much, Vonn made her rescue pup her co-cost on the reality competition show "The Pack" for Amazon. Kansas City Chiefs QB Pat Mahomes and his fiancée Brittany Matthews are so dedicated to their dogs Steel and Silver, the couple shared family photos with the dogs long before they welcome their daughter Sterling Skye earlier this year.
Tampa Bay Buccaneers tight end Rob Gronkowski trains with his pup Drake Gronkowski. USWNT star Alex Morgan's dogs Kona and Blue help with babysitting duties for Morgan's 9-month old daughter Charlie. And Olympic gold medalist Simone Biles trusts her French Bulldog Rambo to guard her house, but wouldn't trust the pup who also has a sister Lilo, with her snacks.
Ultimately the relationship between an athlete and her or his dog can provide unconditional love when fickle fans aren't always in their corner.
PRO ATHLETES AND THEIR DOGS
TIGER WOODS & BUGS
The golfing legend looks like he's in good spirits thanks to his "rehab partner" Bugs, a  Border Collie and Springer Spaniel Mix.
TOM BRADY & LUA
In addition to his Lua, Brady's pitbull mix he and wife Gisele got in 2014, the 7-time Super Bowl champ and his family have two dogs named Scooby and Fluffy.
LINDSEY VONN & LUCY
When it came time to film her reality competition series "The Pack" for Amazon, the newly retired Olympic skier couldn't take her larger dogs Leo and Bear along for the ride, so she booked little Lucy a ticket for the trip of a lifetime. Vonn is such an avid fan of dogs she told USA Today, "Dogs are literally the best companions you could ever hope for."
PATRICK MAHOMES, BRITTANY MATTHEW & STEEL & SILVER
The Chiefs' 25-year-old quarterback's pit bull and Cane Corso mastiff are so popular they even have their own Instagram account complete with over 200,000 followers.
JUJU SMITH-SCHUSTER & BOUJEE
The Pittsburgh Steelers' dancing receiver JuJu Smith-Schuster calls the dog park his dog Boujee's "Disneyland". The 23-year-old NLF star, who is also known for his infamous Tik Tok dances, has become the ultimate dog dad, even receiving good wishes on game day from friends he and Boujee met at the park.
DANICA PATRICK & DALLAS & ELLA
The retired Indy Car racer calls her dogs Ella and Dallas "my babies" and even calls herself "a worried dog mom". Relatable.
MOOKIE BETTS & DRACO
The Dodgers superstar and his fiancée Brianna Hammond, who have been together for over 15 years, not only share daughter Kynlee Ivory Betts who was born in November of 2018, the couple also welcomed pup Draco over Christmas.
ALEX MORGAN & KONA & BLUE
The USWNT's star Alex Morgan adopted her pups Kona and Blue from shelters and is a brand ambassador for National Adopt A Senior Pet Month Initiative sponsored by Stella & Chewy's.
MIKE TROUT & JUNO
The Los Angeles Angels' star slugger is on track to become one of MLB's greatest players of all time. But when it comes to his dog Juno, whom he shares with wife Jessica Cox, Trout is just an everyday softie at heart.
ROB GRONKOWSKI & RALPHIE
Tom Brady's bff has his own bestie in his French Bulldog Ralphie, who also doubles as Gronk's pandemic training partner.
EZEKIEL ELLIOT & ACE, DEUCE, & JACK JACK
The Dallas Cowboys star running back found himself in the doghouse after he was sued by a pool cleaner who said she was "ambushed" by Zeke's three dogs, a Rottweiler and two bulldogs. The woman says she sustained massive injuries after being dragged by the Rottweiler, but Elliott claims the cleaner was not supposed to be on the premises that day.
Elliot not only created an Instagram account for his three best friends, he got Ace's name tattooed on his arm.
SIMONE BILES & RAMBO
Pat Mahomes' dogs aren't the only sports dogs who are Instagram famous. Olympic gold medalist Simone Biles' dogs Lilo and Rambo are "Texas living troublemakers" with a social media following of their own.
KLAY THOMPSON & ROCCO
The Golden State Warriors star Klay Thompson may have missed the past two seasons due to injury, but he's kept his spirits up with his best friend and training partner Rocco the bulldog.
CHLOE KIM
When it came time to celebrate her 2018 Winter Olympic gold medal, the super star snowboarder posed for Sports Illustrated with her adorable mini Australian Shepherd, Reese.
COREY SEAGER & MADISYN VAN HAM & HAZEL
The Los Angeles Dodgers' star shortshop isn't just the 2020 World Series MVP, he's bff's with his pup Hazel and is even known to dress her in his No. 5 jersey on game day.
JUSTIN VERLANDER & NORMAN
While the Houston Astros star pitcher sits out the 2021 season as he recovers from Tommy John surgery his rescue boxer Harley Upton, whom he shares with wife Kate Upton, is keeping his spirits up.
CANDACE PARKER & NAHLA
The Chicago Sky star is known for putting Shaquille O'Neal in his place on The NBA on TNT, but she's used her own dog Nahla to keep her in shape and her defense sharp during the pandemic.
@PatrickMahomes/Instagram