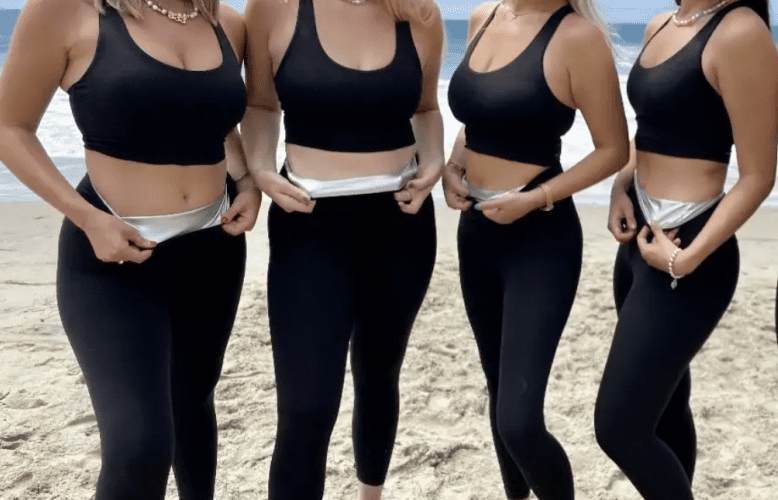 Emma Vollrath wasn't trying to disrupt the 306.2 billion dollar athliesure industry with her fitness brand Emma Lou The Label. She just wanted to help her clients who couldn't shake a bloated stomach. The Southern California based fitness trainer noticed all her female clients complained about the same problem area. With few safe products on the market to help with lower stomach bloating and water retention, Vollrath decided to create one.
"I think people started to see through waist trainers because they're not safe and wearing them isn't sustainable," she said.  "As a trainer you don't want to recommend that to your clients."
Instead, Vollrath fell back on her California roots and got creative.
The Inspiration For Emma Lou The Label: The Wetsuit
 "I knew there had to be some kind of fabric to help you suck in your waist," she explained. After noticing she not only felt warm after taking off her wetsuit after a day at the beach, she felt sweaty, Emma began experimenting with wetsuit fabric. Vollrath recruited her sewing machine-savvy grandma to sew a waistband-sized piece of wetsuit fabric into a pair of Lululemon bike shorts. After a few weeks of trail and error, Emma knew she was on to something.
"All my clients were obsessed," she confessed.
Emma Lou The Label Target: Lower Abdomen Bloating
Different than wearing the 1980's style windbreaker tracksuit to induce sweat – and a potential medical alert – Vollrath's GlowBand™ leggings purposely only target the midsection, which she says has helped wearers reduce bloating. Her leggings have even helped customers who suffer from I.B.S. (Irritable Bowel Syndrome). Customers report feeling more "regulated".
It Seems Like Everyone Is Talking About Reducing Bloating
There's no doubt that reducing stomach bloating as a hot topic in the ever-crowded health and fitness conversation on social media. But when it comes to taking supplements, many customers are dubious and question what they're putting in their body.
The American supplement industry earns $36B per year, but 75% of buyers express concern that the industry isn't regulated or backed by reliable research. Vollrath's GlowBand™ leggings provide the perfect solution for people who are concerned about bloating, but don't want to risk taking a supplement that might not be effective.
"All of a sudden, anti-bloating supplements have become popular," Emma said. "With the Glo Band™ leggings, there's no side affects or worry about what you're consuming."
Fair point. Emma Lou The label leggings are risk free. Wearers are guaranteed an extra sweat without running the risk of taking a supplement that might not agree with them.
A certified fitness trainer, Vollrath knows that leggings alone won't change one's body. She suggests avoiding starches, corn and salt, which can all exacerbate bloating. Thankfully, avocado and dark chocolate are on her short list of foods that won't make your belly look like you just gave birth.
With all the success of Emma Lou The Label leggings, which have been featured in Forbes, Marie Claire and Harper's Bazaar, Vollrath's laser focused on how wearers feel without her leggings on.
"The Glow Band™ leggings make you look good, but I wanted to focus on how you feel when you take them off."
We Tried Emma Lou The Label Glow Band™ Leggings
We tried Emma's leggings. We found: We loved the extra belly sweat and did feel less bloated afterward. They're unbelievably flattering. The long waist band keeps things tucked in without making you feel constrained. And, the butter-soft fabric had us wanting to wear ours day after day.
We suggest sizing down if you're in-between sizes.
Get yours here and get 15% off everything in your cart. Thanks Emma! Click here to get yours.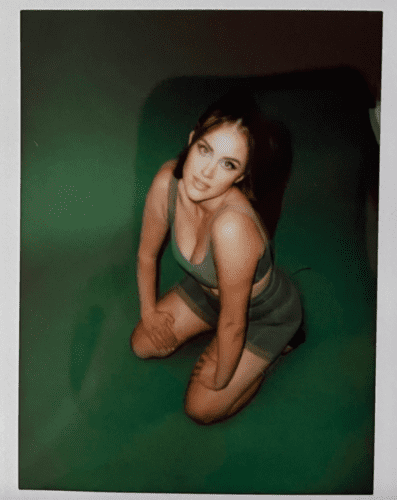 What's In Emma Vollrath's Gym Bag?
We're always curious what's in a fitness professional's gym bag. So we asked. Here are Emma's favorites: