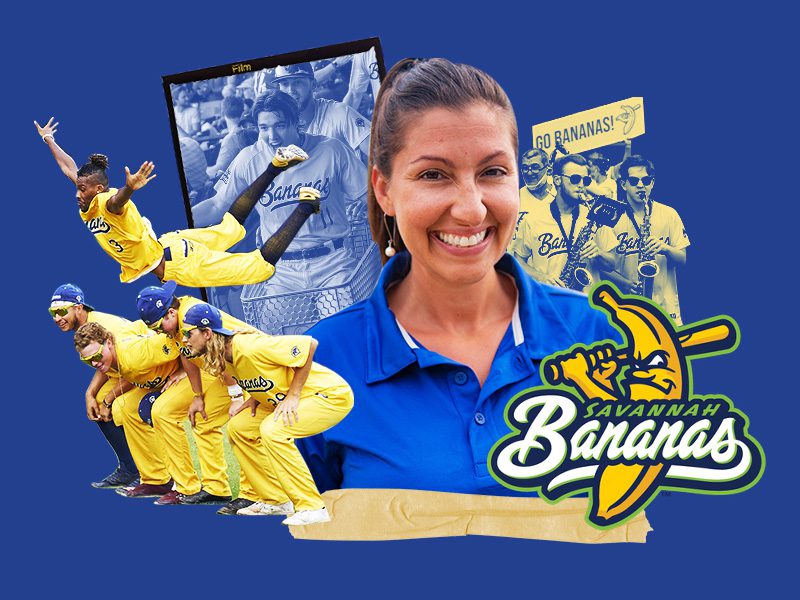 If your social media feed has been filled with baseball players doing extensively choreographed dances and umpires doing backflips, you have been introduced to the Savannah Bananas. The "Harlem Globetrotters of Baseball", the Georgia-based team is owned by husband-and-wife super duo Jesse and Emily Cole. The Coles' mission is simple: make professional baseball more fun. With a 75,000 person waitlist for single-game tickets, it's clear fans can't get enough. Major League Baseball is taking notice.
Already well-versed in the inner workings of Minor League Baseball and summer leagues, the Coles attended a Saturday-night game at Savannah's historic Grayson Stadium and were shocked by what they saw, the stadium was empty. A year later, the couple was given the opportunity to take over the franchise and breathe new life into the stadium and into the Coastal Plain League. Taking over the team also meant selling their dream home. The decision to go all-in on the Bananas "wasn't an overnight decision," but one that would eventually pay off.
Six years later, the Bananas sell out Grayson Stadium's 4000 seats every home game. The team's three-million Tik Tok followers are more than that of any Major League Baseball franchise. A national tour is in the near future and an upcoming ESPN+ documentary will ensure the Bananas' title as the greatest show in baseball.
While Emily declares Jesse "the dreamer", together the two are transforming baseball. One of the few female team owners in professional sports, Emily Cole is in a league of her own. And she's just getting started.
How would you describe the Savannah Bananas?
The easiest way to say it is that it's a circus and a baseball game breaks out.  Every moment of the night is scripted from our perspective of what the fans want to feel. The only thing that is not scripted is the actual play and the game. 
You own the team with your husband.  You sold everything.
It's not an overnight decision.  It's not an overnight success. The city was just so awesome.  We really believed we could have success.  We launched there with a lot of confidence and success in the past.  We bit off a lot, but we were pretty confident we could make it work.
Everything's scripted. Is the other team in on the script?
We've always been in just a regular baseball league. There are 16 teams, we are one of them.
We play 15 other teams all across the southeast.  In that regard the other teams have no idea what we're doing. They are completely different ownership groups.
What we have seen over the past few years is that there is a desire and a need for quicker games and more exciting games.  The league that we're in has to follow the rules. We can't just do anything we want. So we have invented a new sport called Banana Ball and that is now what we are doing with the professional team. 
We have created our own professional team outside of the league we have always been in. With that we have also created a secondary team.  The Bananas always play the Party Animals, which are also our team. They are recruited and drafted by separate coaches and it's not scripted in terms of who wins and who loses. However, we do control who makes it on both rosters so the guys on both have talents.  The guys are both showman as well as great athletes.
For the Savannah Bananas, everything is a competition
It's fun, but they're competitors so they compete at everything. They compete on dance off and backflips.  That's the future for us. We just started touring with those teams.  We did six cities this year. We'll probably do twenty next year. And we will most likely double the amount of cities for years to come because the demand for this show in cities is crazy.
What could MLB learn from you?
I worked in Minor League Baseball for years and just our access to the players, taking the guys to a library was hard.  You had to talk to the agent, the parent club, so many people.  One of our goals has been to break down those barriers and make sure the players are accessible. Fans are excited to get to talk to and feel the excitement up close.
We try to do that even with our characters. If you can't relate to being a very good baseball player maybe you can relate to the Manananas, our dad bod cheerleading squad– a group of dad cheerleaders. Or, the Banana Nanas, our senior citizen dance team. What we've tried to do is make sure everyone in the audience can relate to somebody at the ballpark and that those barriers are down. They can talk to them before or after the game. It's fluid and flexible. The accessibility is one of the best things about our game.
Do the Savannah Bananas have female players?
Yes.  Actually, a couple weeks ago we had our first female pitcher who was the wife of one of our players.  She played in college.  We didn't know that coming into the season, but her husband came and played for us.  As we got to know them on the road, we saw her throwing bullpens to him because he was a catcher. Our coach was like, "We need to talk about this because she's good." 
We were playing in Columbus, GA and we put Magean Wolf in and she pitched for her husband Mat Wolf.  We had the first husband/wife battery and we did a tribute for her.  We want to make sure all demographics are included.
What about the front office?
It hasn't been a focus of ours because half of our full time staff is female.  I don't even think about it. It's just been who's been right for the job. We've never thought about gender, race, because if you're qualified for the job we want you.
Does that change the climate and environment?
We say all the time that our staff is a family. Our kids are at the office. We're throwing baby showers and birthday parties. I think a lot of that is because of the female touch.  It works.
Are you local celebrities in Savannah?
I will never say we are celebrities.  This will never feel real to me. But no, we can't go anywhere.  Not so much me, but my husband.  First of all, he always wears the yellow tuxedo.  Literally everywhere we go, he wears it.  But he tries to do family time and not wear the suit and he still gets approached. It's not like they notice who I am or the kids, but he is very recognizable.
The Savannah Bananas are more than baseball
It's much different than it was the first couple years.  It took a while for us to become successful even just in Savannah.  We came in after 90 years of professional baseball in Savannah and the league that we were in was the lowest level of talent.  Locally, the city was very hesitant on us and then we go and name our team after a fruit.
It was a challenging start for us.  We believed people needed a better experience at a sporting event.  We believed so much in the experience we stuck to it, especially that first year when people did not like us.  Fortunately, that first summer people came.  They loved it. They spread it. Their friends started coming. The past few years, it has just gone insane.
What are you personally most proud of?
The family that we've built.  Not just our kids, but the family in our staff.  There are 25 of us now, which has grown from five in the beginning. I could spend time with every single one of them.  We have a group basically in their twenties running this thing. Whenever I hear people complain about millennials I say "You're just not finding the right ones." These kids are having the time of their lives and it's 100% what I'm most proud of. It's incredibly rewarding to see our own family grow alongside the staff family.
What's next?
Banana Ball on the road.  We tested it last year with a one city world tour.  We sold out two nights in an hour.  This year we went to six cities.  It was successful.  The demand is beyond our wildest dreams.  The future is taking the show on the road.
"Bananaland" on ESPN+ debuts August 22 on ESPN+. Follow the @Savannah Bananas here. 
This conversation has been condensed for clarity and time.