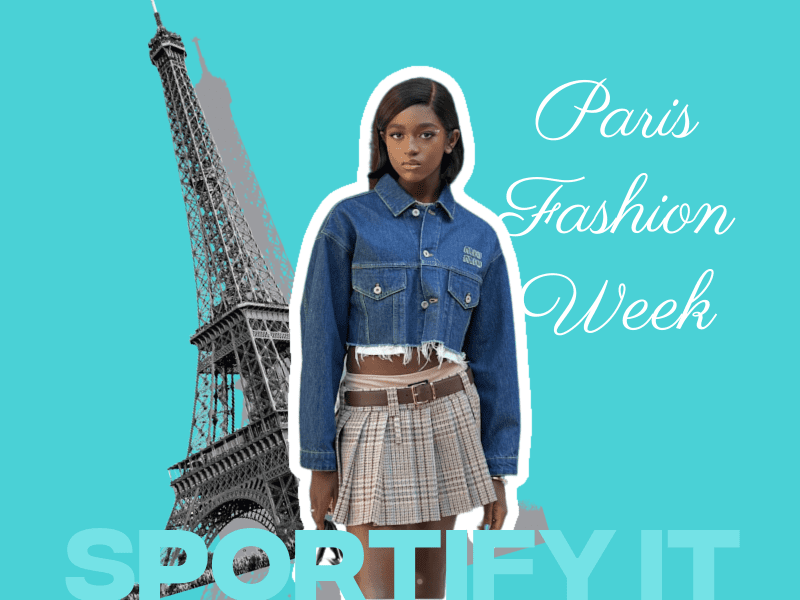 Dwyane Wade isn't crying, you are.
Three-time NBA champion Dwyane Wade's daughter Zaya made her Paris Fashion Week 2023 runway debut Tuesday, walking in the Miu Miu show. Wade and wife Gabrielle Union were proudly seated front and center to support their trailblazing teen. As Zaya sauntered past her parents wearing an olive green dress and coat, the teen looked ever the model as she glided down the runway. Wade and Union (Zaya's stepmom) were brought to tears as they beamed with pride.
The family's stylist, Thomas Christos Kikis, shared a video on his Instagram Story documenting Zaya's first trip down a high fashion runway. Kikis, who sat next to the power couple during the show, captioned a video of Zaya writing "we cried."
Kikis also shared a heartfelt post celebrating the teen. He wrote, "tears in my eyes as i watched @zayawade make her debut at @miumiu today. thank you @dwyanewade for your endless trust in my vision. and thank you @zayawade for showing me what it means to believe in yourself."
Wade quickly commented on the post, writing, "You make it easy. Thank you for centering her wants and needs always."
The teenage style star may be new to the runway, but she's no stranger to Miu Miu. Zaya attended the Italian brand's fall 2022 fashion show in Paris, wearing a schoolgirl-inspired-outfit complete with pleated skirt and cutoff denim jacket.
Dwyane Wade's Daughter Zaya Has A Superstar Support System
Paris Fashion Week 2023 marks one of many ways the former Miami Heat star, Union and their family have shown support for 15-year-old Zaya, who came out as transgender in 2021.
At the time Wade stopped by "The Ellen Degeneres Show" to talk about learning to support his daughter's transition.
He told Degeneres, "Once Zaya came home and said, 'I want you to call me Zaya and I'm ready to take on this,' I looked at her and said, 'You are a leader. And this is our opportunity to allow you to be a voice." He continued, "Right now, it's through us, because she's 12 years old, but eventually, it will be through her."
Wade admitted that he and Union were learning how to support Zaya and were proud of her for "living her truth."
Since then the entire Wade family has continued to support Zaya and has helped to normalize trans teens. In February, 2023, Wade and Union made an impassioned speech at the 54th NAACP Image Awards advocating for LGBTQ+ rights as he and Union accepted the President's Award for their advocacy work in support of the LGBTQIA community.
Wade celebrated Zaya's courage and inspiration saying, "So, baby, thank you for showing the world what courage looks like. I'm proud that I was chosen to stand in place as your father and thank you so much NAACP for this incredible honor."
Follow @ZayaWade here.
Image: Zaya Wade/Pedro Gandra