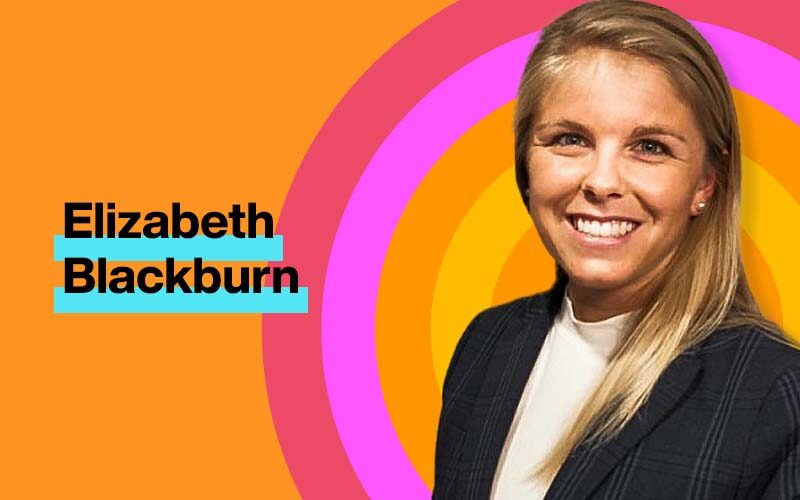 Elizabeth Blackburn is NFL royalty.  Since she can remember, Blackburn –the granddaughter of Cincinnati Bengals team president and owner Mike Brown — has always dreamt of seeing the Bengals win the Super Bowl.  Now, she's doing her part to help make that happen. But football's heir apparent is no figurehead princess, Elizabeth "Burnie" Blackburn is harnessing her superpower and breathing new life into the family business.  And she'll stop at nothing until the team puts a (Super Bowl) ring on it.
We talked to Elizabeth about navigating working with family, how more women can get jobs in the NFL, and why being underestimated can actually make you more successful.

 🐅

What's your sports story? 

I've always wanted the Bengals to win the Super Bowl.  I truly grew up around the team since I was born.  My sister and I would spend our summers at Bengals training camp. At some point I realized I was never going to be able to play in the NFL—and my classmates knew about my connection to the team and they'd ask me if I was going to come back and work for the team one day. My exposure, plus my classmates, had me thinking early on if I wanted to come back to the team. That was always in my mind.
What made you want to leave consulting and finally come back to Cincinnati and your family?

I grew up here in Cincinnati. My friends were straight up fans. When we won they were happy. When we lost they were upset. People are directly angry at you. It's challenging. 
At some point I came to realize that I needed to own it—I could't hide my family's connection to the team. And I kept finding myself coming back to the team. I loved it so much. It shifted my mentality to wanting to make sure I was good enough to come back and work for the team in a way that is productive and that makes the city and the team proud and successful.
Some people have a hard time getting through a holiday with family. How do you navigate working with yours?

Generally speaking it has been great. The biggest challenge of working with your family is seeing family members in a different light than you've seen them purely on a personal level. Sometimes that's weird and sometimes it's really exciting. My mom [Bengals Executive Vice President Katie Blackburn] and I talk about this, overall it is unbelievably fulfilling to get to see an even broader persona of your family members. 

You're a woman in sports and you work with your family. How do you deal with people underestimating you?

For me, it fueled me on the family front more than I can ever explain. I knew from a young age that regardless of my personal accomplishments people would not want to believe them.  You have to overcome that as best as possible. 

Back in high school, I realized I'm not going to win everyone over.  Your work product is what matters. As long as you're giving the effort and results that you and the company deem successful, you have to be comfortable with that. Some people are never going to want a female or a family member in that position.  Your job is not to change their mind. Your job is to deliver success.

How can more women get involved In the NFL?

You don't have to start in sports to end up in sports later.  There is so much you can learn in other industries and other big companies.  That's why I started in the consulting and management space.  A lot of that difference of opinion is where innovation happens and starts.  At the Bengals we cast a wide net when we hire.  I value outside experience.  That's where someone can help you push the envelope and innovate.
And there's an amazing league-led women's forum every year meant to foster connections between women interested in getting involved.  I participated in 2020. It's something I've benefitted from.

Women are quick to downplay our strengths.  Let's talk about yours. What's your superpower?

High energy. I even walk fast. I'll give a shoutout to my grandma, my mom's mom. She has even more energy than me. I don't know if I consciously emulated that, but I'm grateful for that. 
I was listening to this NFL podcast and they had this saying, you're either a truck or a trailer.  You're either a truck and bring people along, or you deflate.  I buy into that concept.  I try to have a lot of energy and bring people along whenever I can.
🐅
Follow @Bengals
For more information about the NFL Women's Career in Football Forum: Read.