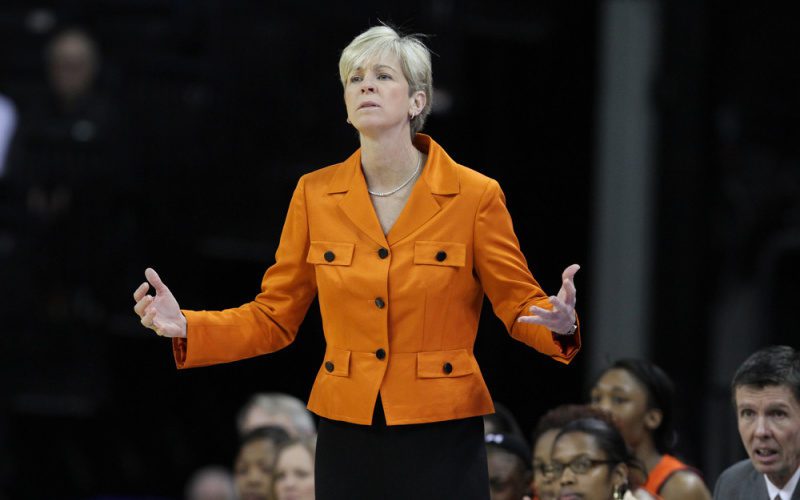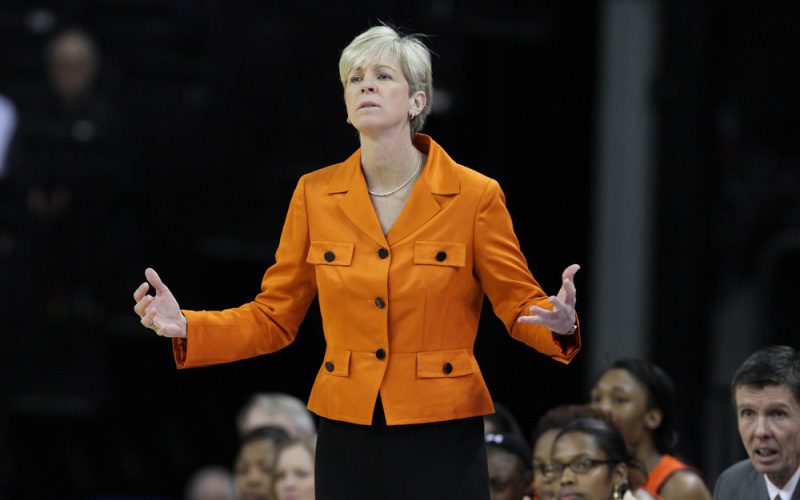 Image: Kelly Kline/Icon Sportswire
Instead of celebrating her team's big victory over Virginia Tuesday, Georgia Tech's head coach Nell Fortner sarcastically thanked the NCAA for treating women's basketball like an "afterthought." Fortner, who shared her thank you to the NCAA on Twitter, was responding to the controversy surrounding the disparity in treatment female athletes in the NCAA's March Madness tournament have received versus their male counterparts. Fortner equated the lack of treatment to a lack of respect. And she's not alone.
The controversy started Thursday after Oregon Ducks star Sedona Price shared video of the weight room the NCAA had provided the women's teams in San Antonio. The women's weight room consisted solely of one stack of weights, in stark contrast to the lavish weight room the men's college team were given in Indianapolis.
Price's video immediately went viral with NBA stars like Steph Curry calling for an upgrade for the women. The NCAA responded quickly, apologizing for the subpar set up in San Antonio, and upgraded the women's weight room with the help of brands like Orange Theory and Dick's Sporting Goods.
But for Fortner, as well as female athletes like Seattle Storm star Breanna Stewart and South Carolina women's basketball coach Dawn Staley, the disrespect female athletes face doesn't stop at the NCAA's March Madness weight room. Players noted differences in COVID-19 testing, meals, and swag bags for the women versus the men.
Staley, who was the Naismith Player of the Year in 1991 and 1992 when she played for Virginia, said in her statement, "Either it's miscommunication, no communication or just not downright caring, if people know what's happening on our side of things, and that must stop." Staley continued, "That must stop, because we're under the umbrella of March Madness. If the NCAA owns March Madness and all of its luxury, then it should feel luxurious to every student-athlete, man or woman."
Fortner, in her letter to the NCAA, was quick to debunk the myth that women's sports don't earn as much revenue as men's sports and therefore don't garner the same perks.
And while the NCAA was quick to apologize, their comment almost did more harm than good. Lynn Holzman, the NCAA's vice president of women's basketball, admitted to the press the organization "fell short", explaining the NCAA had intended for the female student-athletes to have access to a full weight room once their teams had reached the third round of the tournament. This was again in stark contrast to the treatment of the male student-athletes, who had access to a luxurious full weight room from the beginning of the tournament.
Nell Fortner's full message to the NCAA reads:
"To the NCAA: Thank You!"
"Thank you for using the three biggest weeks of your organization's year to expose exactly how you feel about women's basketball — an afterthought.
"Thank you for showing off the disparities between the men's and women's tournament that are on full display in San Antonio, from COVID testing, to lack of weight training facilities, to game floors that hardly tell anyone that it's the NCAA Tournament and many more. But these disparities are just a snapshot of larger, more pervasive issues when it come to women's sports and the NCAA. Shipping in a few racks of weights, after the fact, is not an answer. It's a band-aid and an afterthought.
"Isn't the NCAA a non-profit, devoted to running championships with student-athletes that must be academically eligible to compete in those championships? In what other non-profit educational endeavor is it acceptable to treat young women as a less valuable financial commodity? At what individual university would it be acceptable to give women inferior text books and cheaper cafeteria food because of their perceived cash value?
"While our TV contract isn't in the billions, it is in a package worth half a billion. We do command a massive and loyal TV audience that post ratings on par with some of the largest sporting events in our country. We are a valuable asset that has consistently earned the right to be marketed, promoted and conducted as a great championship rather than an afterthought. If the NCAA and its sponsors are wanting more eyeballs on the women's game, then let's look at Oregon's Sedona Prince's Twitter and Tiktok numbers when it comes to that.
As of 8:45 a.m. on March 21, 2021, her Twitter account had 16.4 million views on the weight room disparities in the women's tournament, 187,000 retweets and 613,000 likes. Her Tiktok had 7.6 million views.
"For too long women's basketball has accepted an attitude and treatment from the NCAA that has been substandard in its championships. It's time for this to stop. it's time for women's basketball to receive the treatment it has earned.
"Thank you for the exposure,
"Nell Fortner."