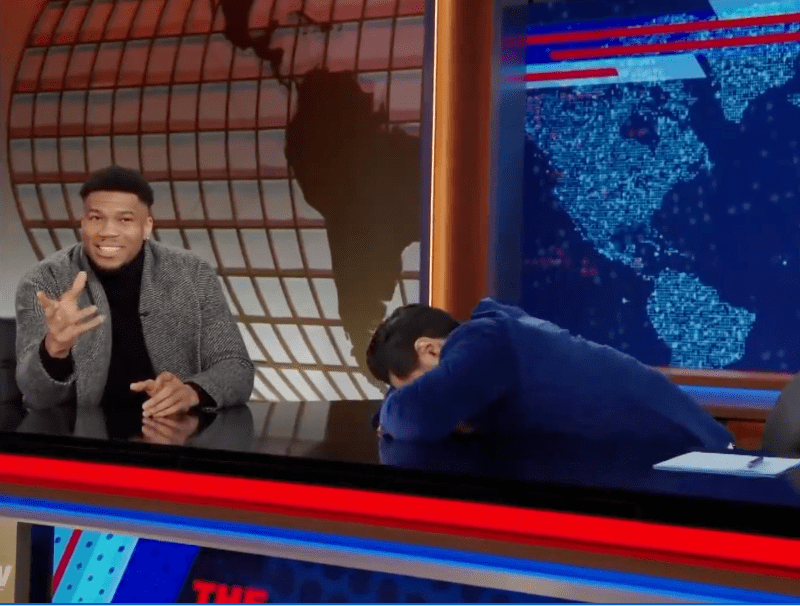 Everybody loves Milwaukee Bucks star Giannis Antetokounmpo.  Sure he struggles at the free throw line, but the 2x NBA MVP is one of the best players in the NBA.  The best player in the NBA if you ask 11 x NBA All-Star Charles Barkley. Giannis is also one of the nicest.
The 28-year-old Nigerian-born, Greek super star is known as much for his off-court charm and personality as he is epic dunks.  The father of two is even known to tell Dad jokes during post-game press conferences.
On Monday, Giannis was a guest on the Daily Show.  Host Hasan Minaj, a diehard sports fan, gave the 2021 NBA champion an arduous task – trash talk some of the NBA's best. Always a good sport, Giannis gutted through the assignment.
Giannis Hilariously Roasts Luca Dončić:
On 24-year-old Dallas Mavericks star Luca Dončić:
"Listen, Luka," Antetokounmpo said as the audience laughed. "Even though you're running with Kyrie, and you have him on your team, I'm coming for you guys."
Antetokounmpo stopped short of finishing the roast.  Minaj stepped in saying Dončić has "sausage arms."
On Nikola Jokić
When it came time to trash talk two-time reigning NBA MVP Nikola Jokić Giannis said, "Joker, how are you going to make it through the Finals when you look like you can barely make it through a Burger King drive-thru."
Uncomfortable being unkind Giannis then said of Jokić, "I love your game."
Giannis Antetokounmpo Can't Quite Roast Kevin Durant
Giannis' funniest roast came at the expense of two-time NBA champion Kevin Durant, often accused of "chasing rings" by switching teams in pursuit of a championship.  The most hilarious part about it was Giannis complimenting KD at the end and host Hasan Minaj surrendering in feigned frustration. Here's what happened.
On Kevin Durant Antetokounmpo said, "You keep joining super teams to win the NBA title. How 'bout we work out together sometime so I can teach you how to carry your own team."
Giannis finished the roast with a straight-to-camera compliment to Durant.
"KD, you're one of the best scorers who've ever played this game," he said. "I respect your game."
As Giannis turned on the charm, only half-committing to trash talking Durant, Minaj put his head down on the host's desk while pleading with Giannis "Entertain me!"
It looks like Giannis is leaving all his showmanship for the court.