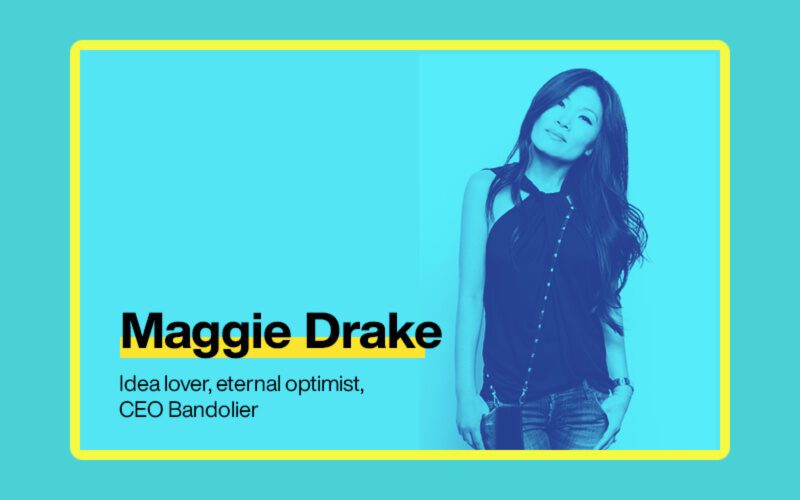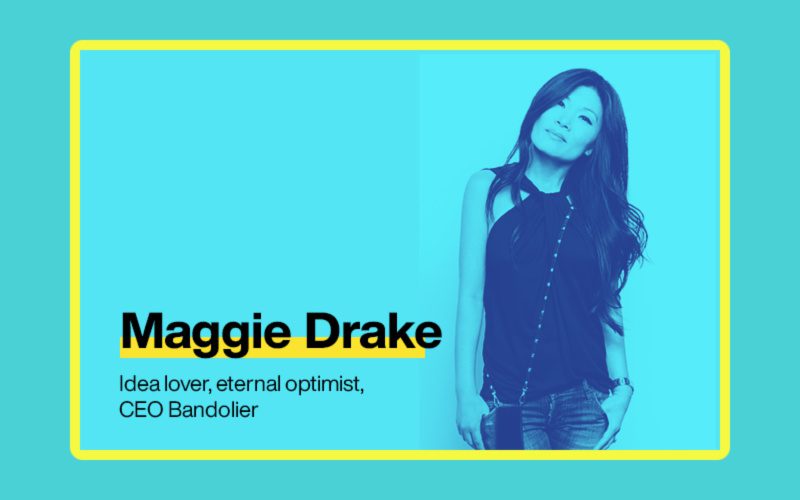 Long before I realized Bandolier co-founder and CEO Maggie Drake had kids at the same school as mine, my talent crush on Bandolier began.  The completely stylish and utterly practical original crossbody phone case is one of those why didn't I think of that? accessories — and one of few chic stadium-approved bags. Designed to liberate women from heavy purses, a Bandolier keeps one's phone handy without having to keep it in hand.  The brainchild of Los Angeles-based Drake, who couldn't keep track of her phone while trying to keep track of her kids, Bandolier is literally the mother of all inventions. 

But despite Bandolier's seemingly easy road to success, what's special about Maggie is her unwavering confidence in the power of a great idea.  This self-proclaimed idea junkie is the inspiration every budding entrepreneur needs. 
Below are excerpts from my conversation with Maggie — Meredith

What made you start Bandolier?
I had little kids. I was running around like crazy and I kept losing my phone in my own house. I was just in my kitchen one day. I was frustrated, I had lost it ten times that day and I thought how can I attach my phone to my body?  I scoured the Internet.  I figured someone had to have thought of this.  I had this black leather case on my phone. I looked at it and wondered how I could attach it to me and make it stylish. I knew nothing about making phone cases so I abandoned the idea.  

A year or two later I was on vacation with good friends of ours.  We'd go on these vacations and we'd miss a photo op because we were digging through our bags.  I was talking to my friend [Bandolier co-founder Colleen Karis} who I was with and I told her about the idea.  We started talking about how we could solve this problem.  She loved the idea and she has a manufacturing background.  We decided to do it together.

How did you know Bandolier was a good idea?
We made samples. We asked our close knit group of friends to be our focus group and wear them out. That week everyone would come up to us and ask what it was and how to get one.  We knew we had something on our hands when we got that feedback

We hired a publicist and got a write up in In Style magazine.  As soon as the issue hit the stands, we turned on our website.  The orders started rolling in and they haven't stopped. It's been a crazy ride. 

Did you have an "I made it" moment?
There have been so many of those little milestone moments. Initially, we dreamt of getting it into Nordstrom. When we landed in Nordstrom that was pretty cool.  When Nordstrom created a new category for their store called crossbody tech, we realized we had created an entire new category of accessories.  That was pretty exciting. 

What keeps you inspired?
I am inspired by really good ideas.  The other day I was like, "This zip tie is an amazing invention!" Little things like that will inspire me to ask what do people need? What's functional? And I love fashion.  That seamless fusion between function and fashion. That's what we're always striving for in everything we make. 

No mom will admit to having a favorite child, but do you have a favorite Bandolier? 
I don't have a favorite, but I will always go back to the style that I originally thought of when I thought what the Bandolier was going to be. That was our Belinda style; black pebble leather case with a thin gold snake chain.  I love that it goes with anything.  You can wear it with a t-shirt and jeans, or a little black dress. It's classic. It completes any outfit you're wearing. It's like jewelry.  

Athletes like Naomi Osaka have been opting out of competing to take care of their mental health. How do you take care of yourself?
Exercise. I think it's really important to do that.  And I like to try new things, or try something I think might help me with a fear I have.  I'm terrified of the ocean, so I learned to scuba dive.

Did it help with your fear?
Not really. (Laughs) 

How can budding entrepreneurs get out of idea mode and into action?
First, make sure your idea is good.  Ask people you know that are going to be honest with you.  Find the people that will tell you the truth and listen to them. When you really feel like you have a good idea, figure out what you need to bring your idea to fruition. And ask yourself if you bring everything to the table to make your idea happen, or do you need other people to help? And make sure you have that foundation to make something happen.

Celebrities like Gwen Stefani have been big supporters of Bandolier. Was there a moment when you were starstruck seeing a celeb wear one?
Gwen Stefani was a huge deal. She's a style icon of mine. Taylor Swift was huge. Katy Perry, Willow Smith.  Zendaya.  We loved seeing her wear it.  I even love seeing Martha Stewart wearing it.   I love seeing the athletes; Serena and Venus, Chloe Kim.

Is there any celeb you're dying to get it to?
I would love everybody and everyone to have it. 

As women we get used to downplaying our strengths. You didn't get here by not knowing what you're good at.  So what's your super power?
I'm creative.  I have good ideas.  I think I have good taste.  I think I have a good eye. I have an idea brain and I know what looks good.

Athletes and teams are big on slogans and mottoes.  Do you have one?
My motto is "don't sweat the small stuff." That goes for everything in life.  It makes happiness happen if you let the minor stuff go. 

* Shop for your favorite Bandolier here.
*Sometimes we get an affiliate commission for recommending what we like.