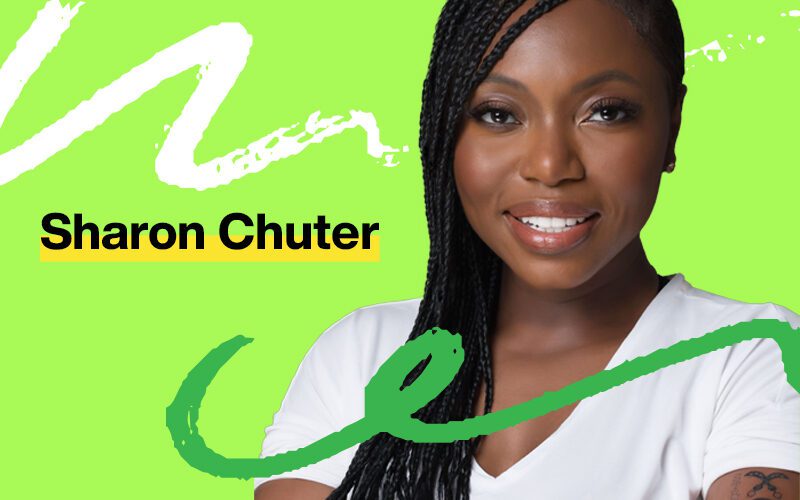 Uoma Beauty's founder and CEO Sharon Chuter is no stranger to jumping in head first, then figuring out a plan. As a teen, she convinced one of America's biggest beauty brands to let her exclusively license its products in Nigeria. That led to a corporate career in beauty before starting her own brand.
Founded in 2018, Chuter started Uoma Beauty to create an inclusive beauty brand that represents all definitions of beauty. Chuter may not have had an exact plan when she initially jumped into the beauty business, but she knew she could count on her self-proclaimed hustle. That, combined with her relentless drive, tenacity and work ethic (she credits her parents and childhood in Nigeria for that), have been Chuter's go-to superpowers that have led to the skyrocketing success she's had since Day 1.
Chuter bootstrapped her company for a while before finally taking on investors. Six years later, Uoma Beauty is sold nationally. In 2021, Chuter announced the launch of a new brand, "Uoma by Sharon C", sold exclusively online and at Walmart. Founded based on Chuter's commitment to moving away from beauty industry norms, Uoma by Sharon C boasts a 30-shade foundation range inclusive of all skin tones.
Our scheduled 30-minute conversation was hardly enough. An inspirational force of nature, Sharon Chuter is just getting started.
Meet Sharon Chuter
As a teen in Nigeria you fell into the beauty business.  How did that happen?
I'm extremely academic and extremely creative.  I was one of those weird kids in school who finished school at 15, got into university and earned a degree at 21. I went off to try to be a singer, to my parents absolute delight, and then quickly realized music does not pay the bills.
That's when I started looking for something else to do.  I thought Other than music, what do I love? I love beauty and makeup.  I jumped in there and got a day job in makeup.  Then I had a brainwave, Why don't we have any mainstream beauty brands officially in the country? It's there. You can buy it, but it's just people bringing it in and unofficially selling it.  I reached out to every brand imaginable asking if I could bring them to Nigeria and Revlon responded.
You were 19 at the time.
They had no idea I was a kid.  I ended up doing the impossible because they had been trying to come to Nigeria for over a decade.  That's how I brought Revlon in, but also started my beauty career. I realized I couldn't really manage it so I got the exclusive rights and I sold it to a proper distributor who could do the job.   It made me realize what I want to do.  I knew I was creative, academic and I have a hustle.  I knew in beauty I could find a home. Over a decade after that experience I'm running my own brand.

Were you scared to tell Revlon to bank on you?
No.  I was a teenager.  You don't have fear when you're a kid.  The main ingredient for my success has been naiveté.  I don't understand limitation. It doesn't occur to me until I'm doing it.

Were you raised to be fearless and confident?
I grew up in Nigeria.  My family was really disciplined.  There were high expectations.  It was non-negotiable. I could have 14 A's and one B, my parents would focus on the B. I joke with people I've been working 20 hours since I was seven.  My parents had a high bar for success.  They were really conscious that I was a woman of color.  Life was always going to be harder for me.  They built me to withstand anything that came my way.  People see success, but they don't see the preparation. There's a lot of prep behind the crazy.
Ten years later, you're in Ulta and Walmart.  What choice got you there?
Everything has been authenticity and following my heart.  I changed jobs every two years and people told me I was crazy.  But the reason I can run a business today, is because I had so much experience in so many different companies. When I look back, the path that seemed so scattered, makes total sense now.

There's a saying in sports that games are won or lost in practice. Do you approach your business like an athlete?
Boxing is my favorite sport. I was working in corporate, I wanted to be a part of the solution not the problem. I was 30. I had the normal hesitation every woman has.  I was suffering from that.  I wanted to set up my business, but I wondered who would listen to me. The people who had found success were makeup artists who had a lot of legacy and famous people. I'm neither. I questioned what gave me the right to sell beauty products.
I'm watching this boxing match, Anthony Joshua vs. Wladimir Klitschko.  Anthony Joshua comes out the winner. And afterward in his speech he said, "I'm not perfect, but I'm trying."  That phrase changed my life.  Literally.  I realized as a woman we strive for perfection.  Perfection is irrelevant.  Trying is all that matters.

There's an inequity in how beauty products are displayed based on race.  You got Walmart to change that. 
Walmart was already on an incredible journey to that.  It still happens a lot, where any beauty products sold to people of color will be locked to the point where products in darker shades get locked up.  We live in a world of beauty apartheid and it's been invisible to a lot of people.  That's why I started my company.  
Best advice you've been given? 
"Be yourself.  Love yourself.  Everyone else is taken."  I got it from my sister when I was about 8 years old.  
Follow Sharon here.