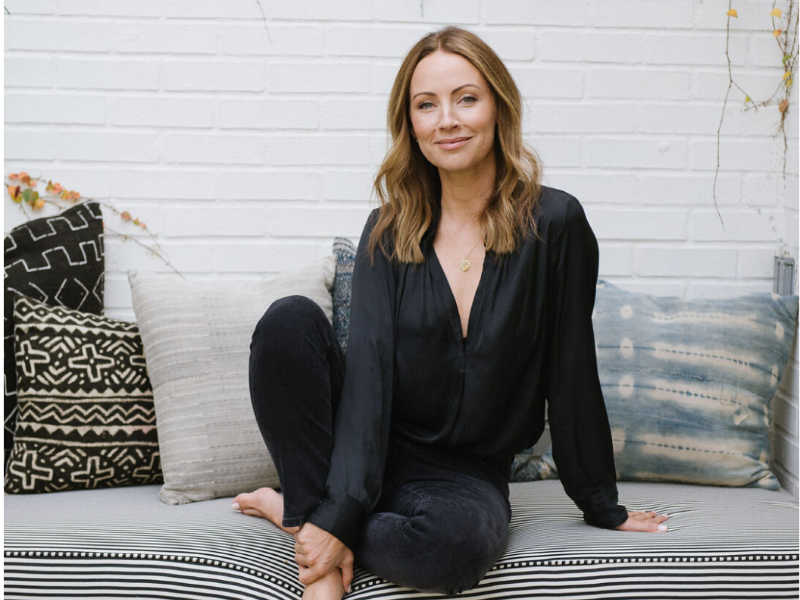 When you meet Jen Utley you'll want to know what it's like to be married to former Phillies and Dodgers All-Star Chase Utley, but you'll also really want to know who makes her shoes, her bag and her jeans. You'll online-stalk all of Jen's favorites the minute you get home. You'll feel silly because there's so much MLB to talk about with Jen. But when you're around Jen Utley, it is impossible not to want to ask her about her incredible style. And it's impossible not to want to emulate it.
The first time I met Jen Utley, I was interviewing her for a TV pilot about sports wives. Chase was still playing for the Dodgers and her kids hadn't started "real" school yet. She was open, available and a total natural on camera. But talking to her, during Chase's last year playing for the Dodgers, it was clear to me that Jen was just getting started. It's not that Chase's retirement would mark her turn at bat, but his impending retirement would finally give her a chance to put down roots and allot her time to think about her next move.
I recently got the chance to catch up with Jen. We said we'd talk for twenty minutes, but an hour and a half was barely enough. She still has her quick wit and her "take no prisoners" real talk about marriage and parenting, but now Jen has a new business that marries her decades long dedication to animal rights and her deep love of fashion. And she's got a killer Real Housewives tagline should they ever come calling. Andy Cohen, where you at?
Meet Jen Utley: Boss, babe and yes, Chase Utley's wife.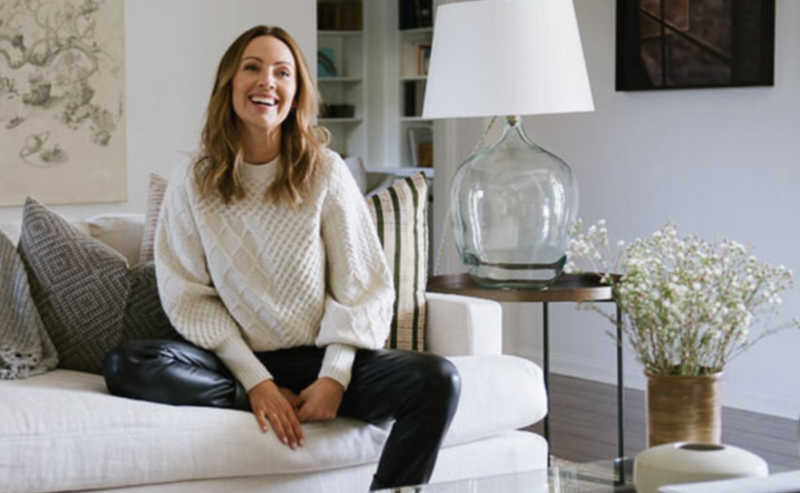 That emotional last season playing for the Dodgers and Chase's decision to retire.
"This sort of move to retire, with the age that Chase was and the career that he had, was not a one-second decision.  It was a well thought out decision for us to move to LA because it kind of checked all of the boxes for all of us. Chase and I both went to college in LA. I had worked in entertainment and some of our closest friends live in LA. We also had the Dodgers. This was not a shocking move.  It was easy and very positive.  That last year didn't feel like a goodbye.  I know to fans it felt like a very deep goodbye, but to us it felt natural. You can't ask for a better exit from sports."
Life after baseball also means learning to parent together.
"For me there was a lot of transition.  I had been used to running a one-parent household.  Every single question my kids had had been aimed at me. All of a sudden there's this other person there to consider. And if the kids don't get an answer from me that they like, they go to him and then he's saying yes. That's like any couple parenting, but I had been the captain of this ship for so long. That's still is a difficult thing. Anyone can relate to that.  It's helpful and it's not."
Working through parenting struggles.
(Laughs) "I don't know that we have. 

In the middle of all this COVID stuff I ended up having to drive to San Francisco to see my grandmother, who is turning 100 in two weeks.  I was gone for three days.  And Chase said 'I don't get it.  They listen to everything I said without any fights, nothing. It was so easy.  And you're home and it's a disaster.' 

And I said, 'Well now you know what it was like for me, times a million, when you retired."
Sports wives have a team, too.
"That part of my life was in Philadelphia.  The men that Chase played with were such a young group of players, Jimmy Rollins, Ryan Howard, Shane Victorino and Cole Hamels. They stayed together.   They played together for so long. That created a very strong bond with the women.  There weren't a lot of people on that unit being traded.  None of us had kids at the time. We traveled together.  We had a lot of fun together.

To this day, we have a Phillies Girls text chain that is endless. The minute we're all together it's like nothing's changed.  Those women, I hold a very special place in my heart for. And I always will."
Jen's quarantined household is chaotic, too.
"I feel like we're paddling down a roaring rapid river on the daily.  We find calm spots along the way, but for the most part it's boulders and rapids. My kids are going to bed at ten. Sometimes it's nine, but usually they'd go to bed at 7:30. Things have become laxed. It is what it is."
Advice for other quarantined moms.
(Laughs) "I would not take my advice!

My advice: Take the good with the bad. Every parent is facing their challenges. 

My relationship with my older child is more tumultuous  than with my younger.  He and I have been working on our communication with each other.  Our house was a place where when he was done with school, we could talk and we could connect over homework.  It was a safe space.  Now those two worlds have merged.  We're all putting this pressure on ourselves to have this balance and have school in our house.  Now it's all in one space. 

You can look at Instagram and see a parent who said 'We made banana bread. We went on a seed hike.' It's so annoying, but only because it makes me feel inadequate because I'm not going that.  That's not the reality of what's happening in my house.
Yesterday I checked the clock at 3:15 to see if I could have a cocktail.  I go from coffee to cocktails." (Laughs)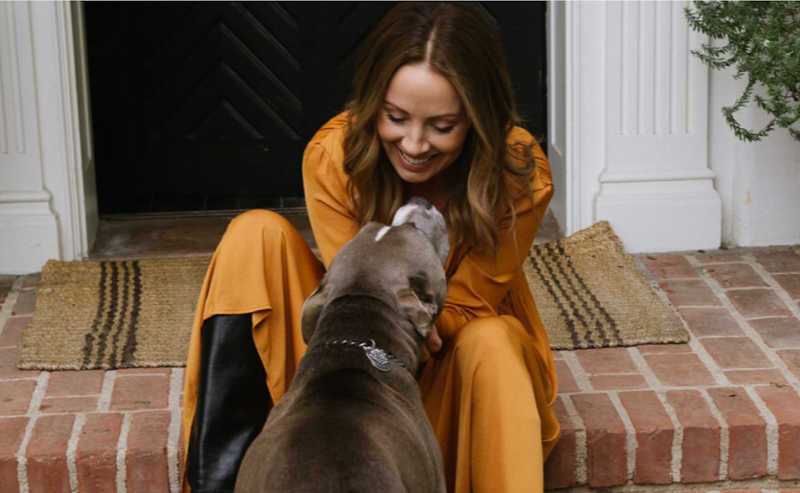 The courage to become the boss: ShopVetted.
"I put a whole other added pressure on myself because I'm married to someone who has achieved every goal he's ever set for himself by the age of 41.  His work ethic, that has been talked about by every teammate, coach, manager and owner. Anything he's ever been a part of, it's always 'Chase's heart and hustle.' It's what he is.  I'm always aware of it.

ShopVetted ended up feeling pure and reflected who I was.  Before baseball I had worked as a stylist at Access Hollywood and then I went into styling. I've always been interested in fashion. I missed that world. Going back to it at this age, didn't feel right.  I knew I needed something that was flexible. I wanted something creative. And I wanted something that felt real to who I am.  And that is all my work with animals and the environment. 

I was talking to a real good girlfriend of mine. We came up with this idea that I then formed into more of a blog, which was my love of fashion coupled with curating cruelty free items.

I wanted this to be a high fashion competitive blog for stylish people giving them another option.  I am saying 'Shop at my site. By the way, p.s., nothing you're buying here has affected an animal.' Anything you're buying from my site is cruelty and animal free.

I love doing it.  I have struggled, but I knew it was right for me because the struggles do not derail me.  I was ready for it.  I don't know if I was ready a few years ago. My kids were young. Chase was still playing.  Now it feels like the right time."
Advice for other women who have an idea and don't know how to get started.
"Isolate your fears. Do at least one thing a day for your business. Remember things move slowly even though Instagram makes it seem otherwise."
On isolating her fear.
"My fear is other people's opinions.  I would get distracted the minute someone criticized my idea.  So with ShopVetted, I kept it to myself.  I didn't want anyone else's timeline or comments that would throw me off my game.  I told no one except two friends who were also in their own lives going through similar job transitions.  Having all of us be in that same space, we could bring each other up.

When you get other people's opinions, your mission gets jumbled.  When I stayed focused on what I wanted it to be, I moved faster.  It's not bad to get other people's opinions, but you have to be really solid in what you want.  It's easy for it to change and you're asking 'What is this again?"
What success looks like for her.
"The success is that I have a space that I put out there. It's okay if others don't like it, but I do.  It feels so authentic to who I am.  When something feels authentic to who you are, it's a really easy way to keep yourself wanting to do better for your business."
If Bravo did a show called "The Real Housewives of MLB" her tagline:
"There's nothing fake about me, except my faux leather jacket. "
Follow Jen: @Shopvetted or shop online at: ShopVetted.com .