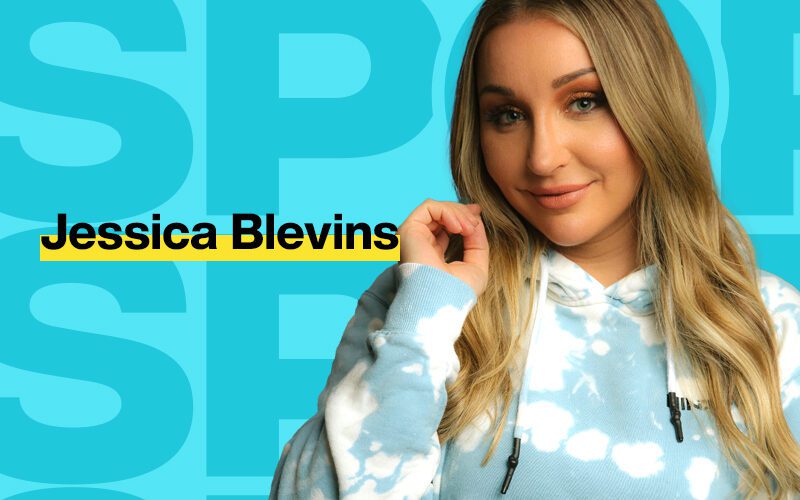 Jessica Blevins is ready to take on life after Ninja. The woman behind the meteoric success of gaming's biggest star, Tyler "Ninja" Blevins, Jess is on the verge of change. The metaverse darling, who gained her own popularity streaming "Dead By Daylight", is possibly best known to the massive gaming community as Ninja's wife and manager.  Now that Jess has Tyler poised to tackle the world beyond gaming, she's ready to tackle her own career past Tyler's.  That means a bittersweet changing of the guards is on the horizon.
On a chilly January morning, with the promise of no glam or mascara needed, Jess hopped on a Zoom call to talk about her next steps, how she made Ninja a household name, and (professional) life after Tyler.
"I'm really excited," Jess starts. "Over the last year I've been growing my brand similar to what I did with Tyler. I have a PR team. I signed with CAA.  Before I was focusing on Tyler, so now I'm focusing on my brand simultaneously."
With a book on the way, an elite Hollywood agency by her side, and her inbox buzzing with offers, it's impossible not to wonder how Jess is going to make this work. She's a self-starter who's never met a problem she couldn't solve. Savvy, but approachable. Unassuming, but a total boss. But, opportunity is knocking. Answering means less time running team Ninja.
"Right now I'm really torn. We're talking about when do we pull the plug and do this. I haven't told anyone that.  You heard it here first."
Jess is quick to mention that she isn't stepping down just yet. But ever the planner, she's thinking further into the future.
"We're realizing that there will come a time, and it may come sooner rather than later, that I won't be his manager anymore," she confesses. "But with how much I'm doing there's going to be a time where we need to hire a manager that we can trust.  Someone who eats, breathes, and sleeps team Ninja like I have done and I can focus on my own stuff and take a step back."
Conversations are different than real life. The reality of leaving team Ninja behind weighs heavily on Jess.  The classically trained dancer, who says her secret superpower is empathy, doesn't want to let anyone down — especially Tyler. 
Jess has long-since anticipated having to make those tough choices that come with success since she asked her then-boyfriend if she could introduce him to some brands. Those introductions turned into lucrative deals with Adidas, Takis, and streaming platform Twitch. 15 million followers later, Tyler's estimated earnings hover around $15 million a year.
"I wanted him to have a plan B. It doesn't have to be where do you want to be in five years if this doesn't work out.  It can be where do you want to be in five years if this does work out."
On the precipice of 30, Jess built team Ninja to sustain Tyler's success without her.  She used her natural people skills (she is that bff you can talk to for hours and never have enough time) to transform Tyler from popular streamer, to bonafide celebrity. She added structure to Tyler's career, taking over the business end so he could focus on what he loves to do — connect with his streaming community.
While initially she'd anticipated needing to take a step back when and if the couple decided to have kids, team Jess is happening now. And Tyler couldn't be happier.
"He's super supportive," Jess says without hesitation.  "He just wants me to be happy."
Follow Jess here.