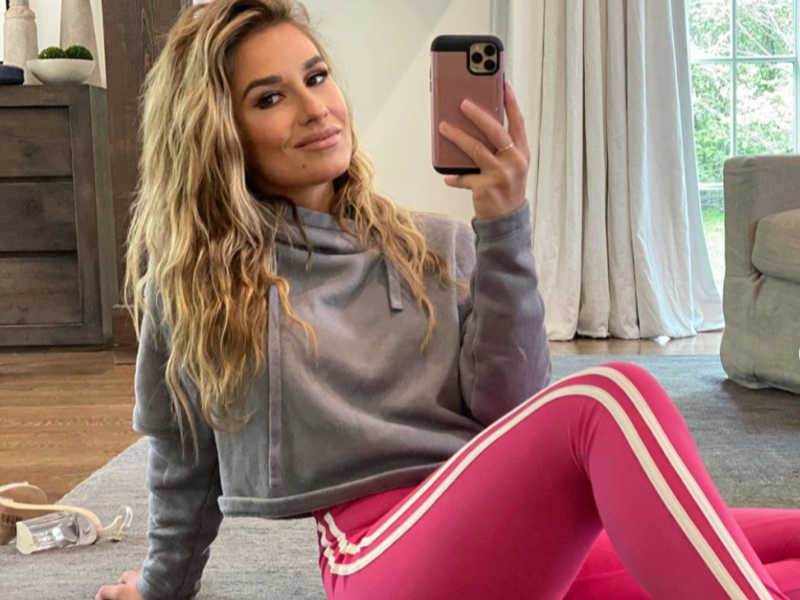 Jessie James Decker does not care what anyone thinks of her choice of attire in front of her children. In fact, she's clapping back at Instagram followers who had a problem with her posting a photo of herself wearing little more than underwear around her kid. She said it was the equivalent of wearing a swimsuit at the beach. Fair point, Jessie.  Here's what went down.
The country singer, cookbook writer and wife of ex-NFL star Erik Decker just posted a totally relatable quarantine moment of herself, glass of wine in hand, completely sacked out in a chair.  Behind her is a messy bedroom in which her 4-year-old son Erik is playing. What made Decker's photo stand out, was the fact that she was wearing just a t-shirt, slippers and underpants.  She captioned the photo "Tuesday." Who hasn't had that Tuesday? We certainly have.
Readers were quick to chime in with compliments because quarantine life is tough on everyone and everyone can relate to the feeling of being totally and completely done. Celeb sports wives are no different than all of us, bad days an all.  But naturally because the Internet has to have an opinion, some fans weren't so supportive of Jessie's free range attire.  In fact, they got down right mean.
One follower said, "You walk around like that with your kids around… ."
Decker replied, "Yes. No different than a swim suit. I teach my children the body is beautiful. Nothing to be ashamed of."
Another snarky commenter wrote Decker is "desperate for attention." 
Decker slay'd with some expert sarcasm replying, "Yeah, I don't get enough love. Can I get a hug."
Truth be told, Decker has been open about her body image struggles in the past and has been completely honest about her struggles with her weight after the birth of her three children.  She makes a good point.  She was probably wearing more than one would wear at the beach. Plus, she's had three kids. Her bod looks amazing. If she wants to walk around in her undies, go for it. And if she wants to put it on Instagram, more power to her.
So kudos to you Jessie, for your sarcasm, your mood and even your lack of pants.  We hope your Wednesday got a little bit better.