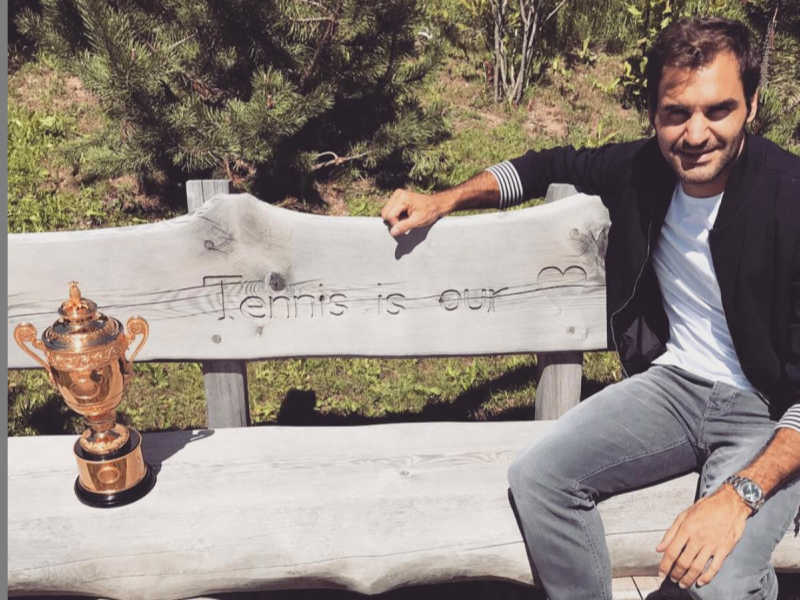 It's a headline no tennis fan would believe: Roger Federer offers tennis tips to fans practicing solo at-home tennis drills at home, but that is exactly what is currently going down on Twitter right now. Having recovered from feeling "devastated" by the cancellation of this year's Wimbledon, the Swiss tennis ace has decided to put his tennis skills to good use and give tips to everyday folks willing to try his solo at-home drill.
Federer, who along with his wife Mirka Federer, donated $1.02 million to help Swiss families affected by the COVID-19 outbreak, had been recovering from knee surgery and was set to return in June for Wimbledon. But last week, The All England Club which oversees Wimbledon, cancelled the tournament for the first time since World War II. Federer responded on Twitter by expressing his sadness. Since then, he has encouraged fans to practice social-distancing and has even shared his solo at-home practice routines much to the delight of his fans.
But Tuesday afternoon, Federer took to Twitter to share video of himself practicing what he calls a "helpful solo drill." Dressed in all white and donning a Panama hat, Federer looked like he was ready to watch a Wimbledon match himself. Instead, he offered to give tennis tips to anyone who tried his solo at-home drill and responded with video of the attempt. He even suggested they up their hat game as well.
True to his world, the tennis great offered tennis tips to fans, including some of his famous friends.
Last year's Australian Open winner, Sofia Kenin, tried her hand at Federer's at-home challenge, hat and all.
Olympic gold medalist Lindsey Vonn responded.
Since actor Hugh Jackman doesn't have a tennis court, he responded with his own at-home workout.
An- Federer offered tennis advice to fans who were non famous as well.
Turns out Federer's fans have some pretty serious tennis skills, too.
So if you want tennis advice from one of the greats, all you need is a racket and a ball. Oh, and don't forget the hat!
Featured image: @rogerfederer/Instagram