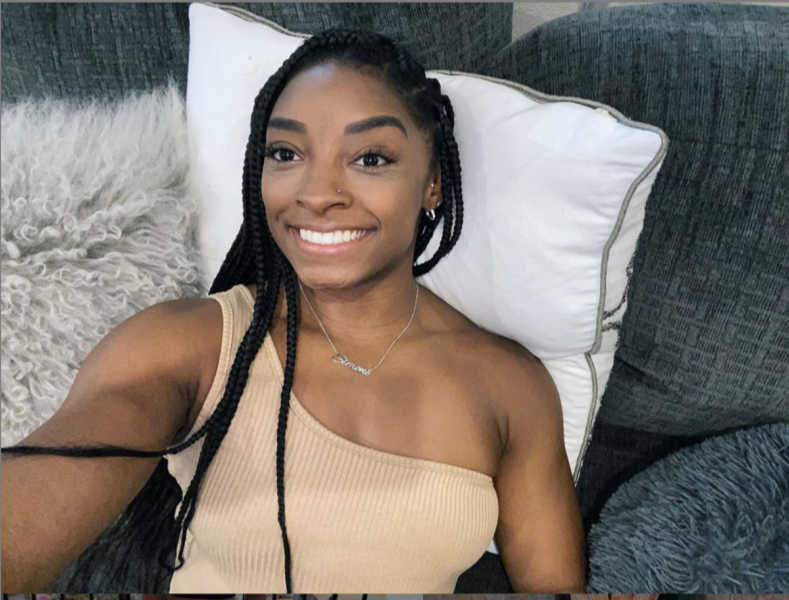 What started as a simple challenge from one Spider Man For From Home actor to another has gymnast Simone Biles winning more than an Olympic gold medal; she's won the Handstand Challenge, hands down. Following in the footsteps of tennis ace Roger Federer's tennis challenge, the Handstand Challenge has taken over the Internet. Here's what went down.
It all started with current Spider Man Tom Holland posting a video of himself putting a shirt on while doing a handstand. He then challenged co-star Jake Gyllenhaal to do the same. Like the good Samaritan he is, Gyllenhaal saw Holland's challenge and raised the bar by taking a tie-dyed t-shirt on and off, all while doing a handstand.   Gyllenhaal then tagged Deadpool star Ryan Reynolds who had the good sense to respond with a definitive, "No."
And while both actors seemed to effortlessly handstand while taking their shirts off, and a sincere thank you for that fellas, it seemed as though no one could out-Handstand Challenge these Spider Man stars.  And then the ladies stepped in. 
Olympic gold medalist Lolo Jones saw Holland and Gyllenhaal's epic handstand videos and knew she could do better.  But first, she graciously thanked both gentleman for handstanding without a shirt on because as she said, "I haven't seen a man in 25 …"   We agree, Lolo. We agree.
Lolo then put on not one but two shirts and finished off her challenge by drinking a glass of wine, all while upside down in a handstand.  She captioned her video by stating this is why God chose women to have children.  She makes a good point.
And then came Simone.
Not to be out-handstanded by civilians, gold medalist and overall boss Simone Biles raised the stakes with her handstand challenge. Biles managed to shimmy her sweatpants off (don't worry, she had something appropriate underneath) all while performing a walking handstand.
Let's Sportify It with some Handstand Challenge takeaways.
1: Gyllenhaal and Holland graciously provided the shirtless quarantine content the world needs right now.
2: Gyllenhall is sporting a quarantine man bun. We'll take it. These are desperate times.
3: Gyllenhall and Holland may be able to handstand, but Biles and Jones can multitask and handstand. This is a reminder that if you want more than one thing done at once, asl a woman.
4: Ryan Reynolds knows his limits. 
So thanks ladies for showing us who the stronger sex is, not that there was ever any question. And who knows, maybe Zac Efron can start a shirtless cartwheel challenge or Idris Elba can initiate a somersault challenge. Megan Rapinoe or Naomi Osaka can then show them up. Regardless, we'll be watching.
Image: @SimoneBiles/Instagram