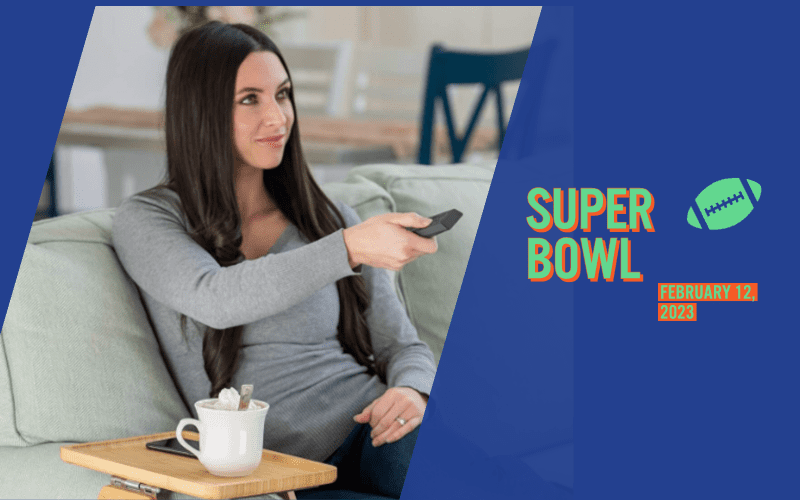 One of the most anticipated matchups in N.F.L. history, Super Bowl LVII is almost here. Whether you're a Philadelphia Eagles fan, a Kansas City Chiefs devotee or just a die hard Super Bowl party enthusiast, it's time to start planning your Super Bowl party. Even if yours is a party of one, what you eat during the game can sometimes feel just about as important as who wins and who loses. How you eat it can be even more of a game changer.
There's no bigger big game-buzzkill than a lost remote or a spilled bag of chips. Getting in the party game has never been easier thanks to sofa arm tray tables, the easy-to-use and totally affordable T.V. room accessory. They slip, clip or snap over the arm of your sofa or couch and keep your snack setup mess-free and organized.
Super Bowl LVII will make history as the first time two siblings will face one another when the Eagles center Jason Kelce faces little brother Travis Kelce, the Kansas City Chiefs' star tight end. The Philadelphia Eagles' Autumn Lockwood also makes history this year as the first Black female to coach a Super Bowl. And ticket sales have reached an all-time high as Super Bowl LVII tickets are being resold for a staggering $6,000 to $27,500.
Thanks to our new favorite accessory, the sofa arm snack tray, you'll actually get to watch all that history being made instead of running back and forth to make sure everybody else is fed.
They may even help you with that lost remote. Everybody wins, even if their team doesn't.
Our Favorite Sofa Arm Tray Tables