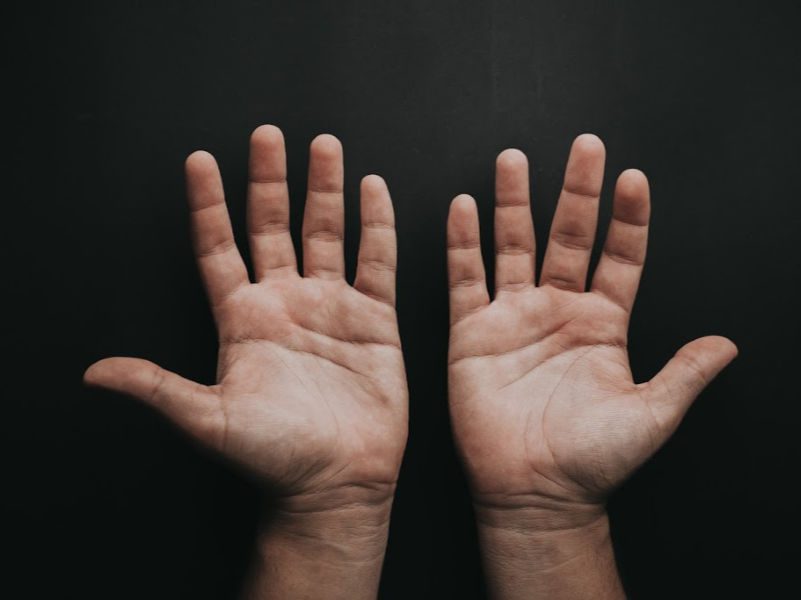 Don't have time to read the entire sports page? We did it for ya.
1: LSU'S JOE FARROW DOESN'T CARE ABOUT HIS TINY HANDS
WHAT YOU NEED TO KNOW:
First, Let's Take Two Steps Back. This week is the annual NFL Scouting Combine in Indianapolis, which is basically auditions for football players entering the draft.   Players may attend by invitation only and not all potential draft picks are invited to attend.  Players are put through a week-long series of physical and mental tests in front of coaches, general managers and team scouts. A player's draft stock can alter drastically based on his or her performance in the combine. For quarterbacks, physical stats like height and hand measurement are taken into account. Teams fear a QB with small hands will have issues with grip and ball handling. 
Okay, Now On To The Hand Measurements. LSU's  QB Joe Burrow is in strong contention to be drafted first (possibly by the Bengals who have the top pick.)  After making headlines for having a hand measurement of 9 inches, small for a quarterback, Burrow took to Twitter.  He tweet'd:
Super Bowl MVP Pat Mahomes responded:
Now would be the appropriate time for those "size matters" jokes we've all been keeping at bay. And then let's discuss…
2: THE JAPANESE FOOTBALL ASSOCIATION REALIZES FEMALE ATHLETES CAN BE MARKETABLE, TOO
What You Need To Know: In 2011, the Japan Women's Team won the FIFA World Cup and sealed its place in history. Realizing that women's soccer is on the rise, The JFA (Japanese Football Association) just announced they are going to launch a women's professional soccer league in 2021. Japan's announcement comes just one week after Australia's Soccer Federation made headlines for announcing equal pay for male and female athletes (U.S.S.F. are you listening?) And just days before record breaking crowds came out to watch the North London Derby between Tottenham and Arsenal's women's teams at Tottenham Hotspur Stadium.
Before You Start A Hashtag: Japan has struggled to get fan support in the past for women's soccer.  Not only have the crowds not shown up, but neither has the media. But Philadelphia Inquirer soccer writer Jonathan Tannenwald says, "We do not know the true potential of professional women's soccer because it has rarely ever — and in many countries, never — been marketed and promoted as a professional sport like men's professional sports."   
Oh hey Puerto Rico, good news!
3: PUERTO RICO IS GOING TO THE OLYMPICS
What You Need To Know: For the first time in history, the Puerto Rican Women's Basketball team has qualified for the Olympics. Despite losing to France in their last qualifying match, Australia beat Brazil leaving Puerto Rico with an Olympic spot. 
"It's a dream come true," said Luis Miranda, general director of Puerto Rico's Women's Basketball League. "Through the last five years in the Women's Basketball League in Puerto Rico (BSNF) we've worked so that the women on the team have the highest degree" of skill.
Since You Asked:  Puerto Rico is a part of the U.S. so why does it have its own team? According to the IOC, Puerto Rico is considered an insular territory meaning its a part of the U.S. but not really a part of it. The IOC considers insular territories sufficiently independent to be granted their own teams.  Guam and the U.S. Virgin Islands have their own teams as well, despite not being countries of their own. 
4: BAD NEWS FOR THE YANKEES
What You Need To Know: Yesterday, pitcher Luis Severino learned he would need Tommy John surgery and would miss the entire 2020 season. That's bad news for the 26-year-old pitcher, even worse for the Yankees who have been dogged with player injuries.  Last year, the team's biggest weakness was pitching.  Yankees manager Aaron Boone calls Severino's absence a "big blow," but hopefully the addition of Gerrit Cole will soften it.
Why It Matters: The Yankees' 2019 season saw the Yanks breaking a major season record, they had 30 different players on the injured list.  In response, they changed their player health and performance staff, bringing in experts from outside the organization while keeping a few from the inside.  With Aaron Judge still not back in the rotation and Severino now out for the season, the Yankees could be fast on their way to breaking their own record. 
5: Steph. Is. Coming. Back. (Whew)
What You Need To Know: That's all you need to know, Warriors fans. March 1st. Golden State plays the Wizards at home. Steph will be there. Undoubtedly, so will his 3-pointers.
Let's Be Clear: Golden State is last in the Western Conference, having won just 12 game this season. The playoffs are out, but at least Steph is back in.
A legend retired. Let's meet back here tomorrow to discuss.