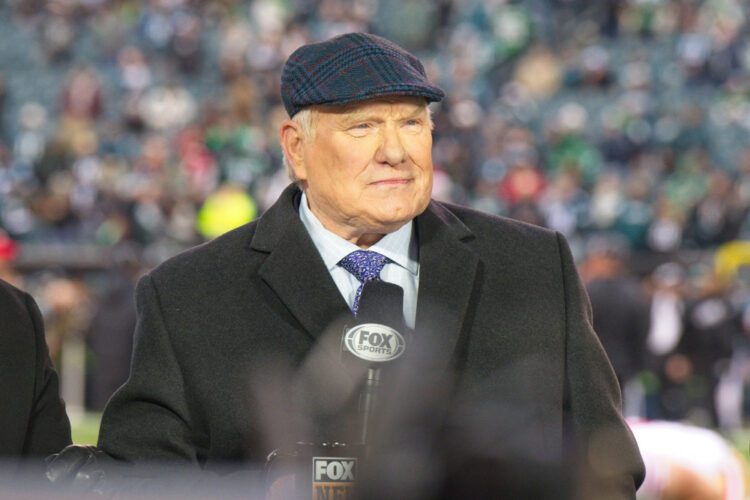 Four-time Super Bowl champion and NFL on Fox Sports commentator Terry Bradshaw is facing backlash for seemingly fat-shaming Kansas City Chiefs head coach Andy Reid as Bradshaw presented the two-time Super Bowl winning coach with the Lombardi Trophy following last Sunday's game.
Following an interview with Chiefs CEO and president Clark Hunt, Bradshaw ushered Reid over.
"Big guy. Let me get the big guy over here," he said to Reid during the Chiefs post-game celebration. "Come on, waddle over here."
Bradshaw finished his interview with Reid joking, "Have a cheeseburger on us." 
Hunt, still standing within earshot, stood motionless.  Reid took the comments in stride as Bradshaw cackled. If he hadn't had the Lombardi Trophy in his hand, he likely would have smacked Reid on the back as one does when telling a joke that's really good.
Except Bradshaw's jokes weren't good.  They weren't even funny. Though the Philadelphia Eagles lost the day's game, Bradshaw and FOX came out the real day's loser.  The audience quickly took to social media. Andy Reid had just won the Super Bowl, they stated en masse.  Shouldn't he be spared Bradshaw's hazing?
Terry Bradshaw Faces Backlash For Fat-Shaming Andy Reid
Terry Bradshaw Has A History Of Tone-Deaf Jokes
Bradshaw's joke-gone-wrong is not his first. He faced controversy last fall when stating his opinion that the Arizona Cardinals needed to have QB Kyler Murray run the ball more as part of the team's offense. "I think if this kid ran five or six runs in a row," Bradshaw said, "I think he'd commit suicide or something."
Even Bradshaw's NFL on Fox colleague Michael Strahan was noticeably uncomfortable with the tone-deaf comment.
During ESPN's Super Bowl coverage Sunday, Chris Berman also missed the mark while commenting on the historic importance of Super Bowl LVII, the first time two Black quarterbacks faced one another in the championship game. "Fittingly, February 12th is Abe Lincoln's birthday," Berman said. "Here we go with the highlights in case you missed it."
Not surprisingly, the juxtaposition of connecting Jalen Hurts and Pat Mahomes' historic relevance to Lincoln ending slavery, followed by a quick cut to the game's highlights, didn't go over well.
The "Oceans 11" line "You had one job" comes to mind.
It's not that analysts and commentators are expected to be perfect when making live commentary. Mistakes happen.  Jokes don't always land.  But over the years, commentators such as Bradshaw ­– Chris Collinsworth comes to mind as well ­– have had free rein to say whatever comes to mind with little recourse.
Bradshaw has been a fixture on Fox's NFL coverage since he retired from football in 1994, a time when razzing and hazing interview subjects probably went unchecked.  At age 74, Bradshaw stated he has no plans to retire and hopes to "die on TV."
Judging by the audience's reaction on Terry Bradshaw's off-color comments on Super Bowl Sunday, it looks like he already did.
Image: Andy Lewis/Icon Sportswire