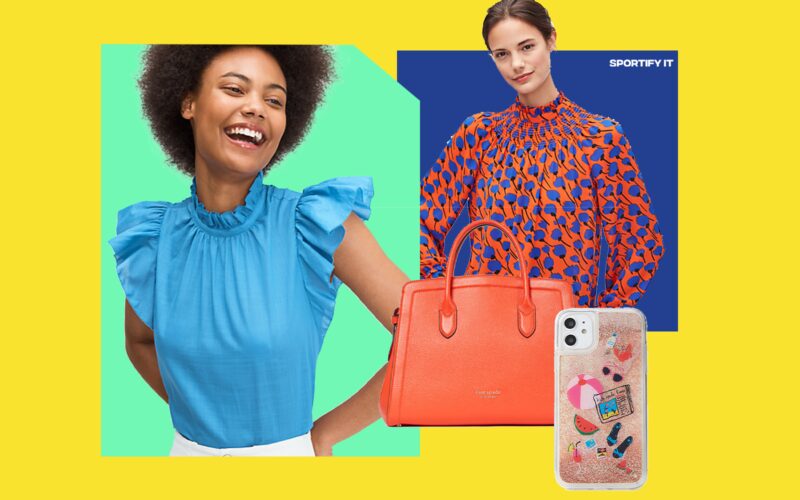 The Kate Spade Summer 2021 sale is on and it couldn't come at a more perfect time as work-from-home uniforms that consist entirely of sweats and T-shirts are becoming a thing of the past. While Zoom calls and meetings are here to stay, in-person meetings are making a quick return. For many of us that means it's time to stop shopping in our own closets in favor of updating our "real clothes",most of which we haven't looked at for over a year.
We've always been big fans of Kate Spade's classic style, bright colors and patterns, and expert tailoring. The whimsical preppy styling was the hallmark of the brand, which was designed by former Michael Kors executive Nicola Glass for the past four years. Glass announced her departure from the New York-based brand in March, 2021 and a new creative director has yet to be named.
Under Glass' tenure the Kate Spade brand saw new life, with an update to its iconic handbag styles, while keeping Spade's nod to vintage ladylike styling in tact. The bright colors and clever prints –we can't resist a cherry pattern or a watermelon-shaped tote–are taking us back to our preppier days when collars were turned up, A-line skirts were worn on the regular, and ruffles and lace were a no-brainer.
We had a blast diving in to the Kate Spade sale. These are our favorites. Which are yours?
*Hey, you. We select product recommendations independently, but sometimes receive an affiliate commission from buying links listed below. Cool? Cool. 
OUR FAVORITE ITEMS FROM THE KATE SPADE SUMMER 2021 SALE