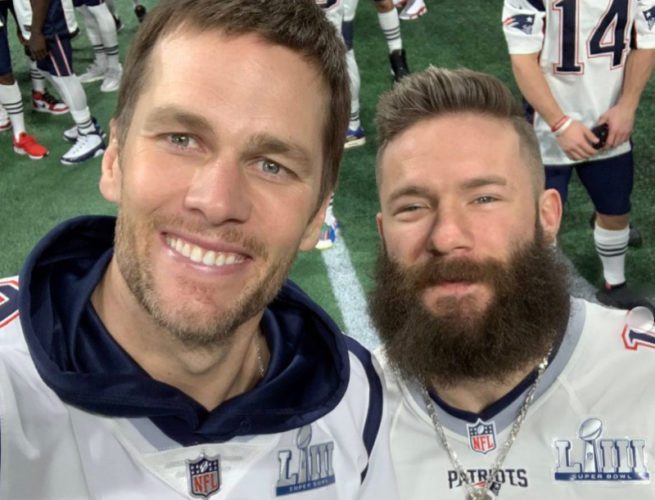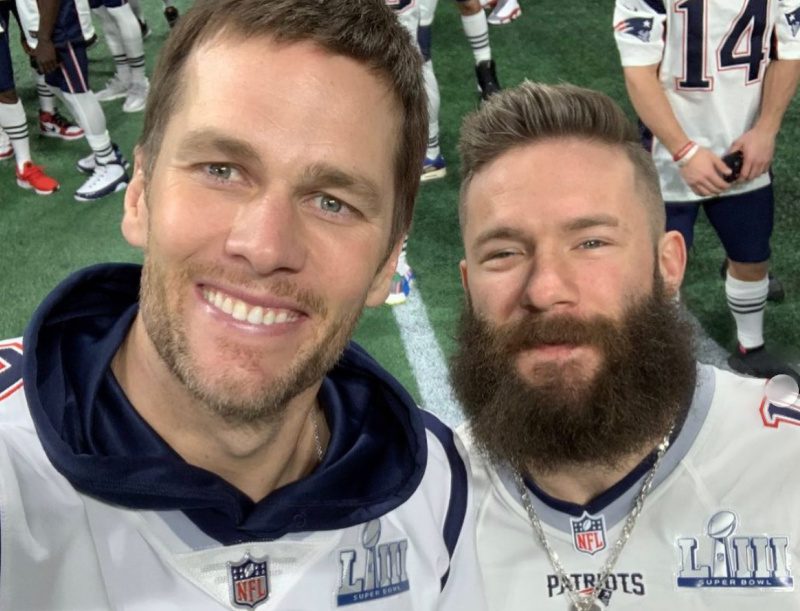 Tom Brady and Julian Edelman are going to be okay. Edelman, the veteran New England Patriots receiver who has been in the NFL for twelve years and played with Brady for eleven of them, is retiring from the NFL. But fans of the famously tight friends can rest assured that the Tom Brady and Julian Edelman bromance fans have grown to know and love, is bigger than the NFL. Here's the story.
Just moments after the New England Patriots terminated the contract of veteran receiver Julian Edelman, the three-time Super Bowl champion announced his retirement. The former Super Bowl MVP posted an emotional video captioned "Foxboro Forever", celebrating some of Edelman's favorite plays including the iconic catch the helped the Patriots beat the Los Angeles Rams in Super Bowl LII. His terminated contract, as it turns out, was just a formality.
Edelman, who was only able to play six games during the 2020 NFL season due to a serious knee injury, had every intention of giving the 2021 season a go. But once he got on the field to practice, the status of his post-surgery injuries became clear. In his video ,Edelman said he had always said he'd play "until the wheels have come off". He paused and said, "They've finally fallen off."
The 35-year old NFL legend was gracious, thanking everyone in the Patriots organization from owner Robert Kraft, to "the lunch ladies", to "the people who clean up after us". And he was emotional, thanking the entire Patriot Nation and his family whom he said have always had his back.
It's impossible to look back on Julian Edelman's Hall of Fame-worthy 12-year career in the NFL, without putting Tom Brady in the picture. Brady and Edelman, whom the QB famously references as "Jules", had chemistry from the start. Maybe it was the fact that they were both California natives, or both late-round draft picks driven by a desire to prove naysayers wrong, but Brady and Edelman had an on and off-field partnership that is the stuff dreams, and careers, are made of.
The ultimate NFL bromance came to an end when Tom Brady left the Patriots after the 2019 season, a free agent at liberty to find another way than the Patriot Way. Brady went on to Super Bowl glory with the Tampa Bay Buccaneers and Edelman played through in New England until he could no more. Julian Edelman's retirement announcement seemed to catch Brady by surprise, but he was quick to share a heartfelt tribute to the player who had received 571 passes of his.
TOM BRADY PAYS TRIBUTE TO EDELMAN
As news of Edelman's retirement traveled through social media, teammates like Devin and Jason McCourty celebrated the star receiver.
Former teammate Danny Amendola called Edelman "one of the most incredible professional athletes in the world".
It was Brady's words who meant the most. The friendship meaning enough to the seven-time Super Bowl champion, that he shared a second tribute to Edelman via Twitter later in the day.
As for Julian Edelman's future he'll now be able to tend to that nagging knee injury and he'll undoubtedly savor spending more time with his 4-year-old daughter Lily, whom he shares with Swedish model Ella Rose. But his deep friendship with Tom Brady will continue on, even if it involves Brady's daughter Viv trying to get "Jules" to trim his overgrown beard.
Former teammate Rob Gronkowski told TMZ Sports he thinks there's a "69% chance" Edelman is a Buccaneer in 2021. Does he know something we don't know, or was he just being funny? Time will tell.