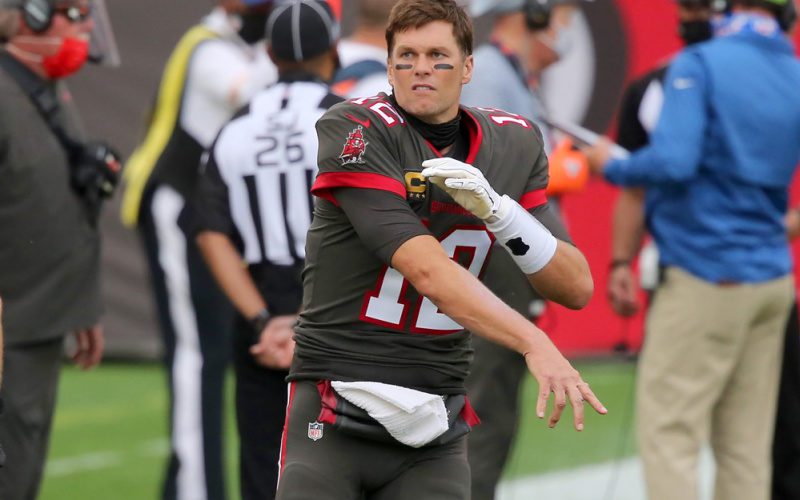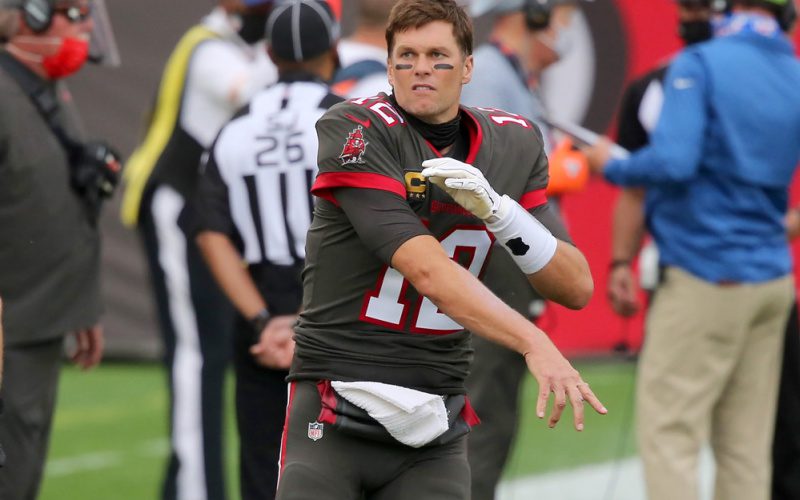 Tom Brady is staying in Tampa. Brady, who signed a two-year contract with the Buccaneers last spring, just signed a four-year contract extension. The extension reverts to a one-year contract and keeps Brady in Tampa for at least two more seasons. The contract was designed to offset cap space, allowing Bucs coach Bruce Arians to afford to keep much of this year's Super Bowl LV- winning team together.
Brady's tenure with the Bucs got off to a bumpy start, with fans wondering if post-Patriots Tom Brady would have been better off hanging up his helmet. There were rumors of tension between Brady and Arians. Brady was unfazed by the rumors instead focusing, as only Tom Brady can, on getting his seventh Super Bowl ring.
As the season progressed, the team began to work together better and Tom found his footing in the NFC South. He also found his sense of humor. Buccaneers Tom Brady, it turns out, was having a good time. And he was happy to show it.
Fans can expect at least two more seasons of one of the greatest quarterbacks of all time trying to bring more rings to Tampa. They can also expect a G.O.A.T. – worthy Twitter feed, not that we'd expect anything less.
Image:  Cliff Welch/Icon Sportswire
GUN SHOW
It's safe to assume whomever gave Brady his dream biceps is getting a raise. As it turns out Buccaneers Tom Brady is having a great time and he's got muscles to prove it.
GIFT HORSE
We're picturing Tom using a rotary phone, you?
THROWING SHADE
Tom Brady challenging Michael Strahan to run it back is about as savage a deep ball thrown by Brady himself.
SMOOTH MOVE
Just prior to the 2020 season start Brady was feeling pretty good about his Buccaneers teammates, and smooth jazz.
RUMOR MILL
Buccaneers coach Bruce Arians made sure Brady was treated just like any other player, which means being on the receiving end of a coach Arians tirade. We're guessing Tom remained unbothered having survived two decades of Bill Belichick.
NEW BEST FRIEND
When the Bucs acquired former Jacksonville Jaguars running back Leonard Fournette, Tom wasn't shy about sharing his feelings. The bromance paid off and Fournette was one of Brady's go-to weapons all season.
WASHED UP
At 36 years old and 43 years old respectively, Los Angeles Lakers star LeBron James and Tom Brady have a lot in common. Both are considered one of the greats in their sports and each gets accused of being washed up despite winning one championship after the next.
POOR CHUCK
Inside NBA co-host Charles Barkley takes a lot of heat for his golf swing. But if you're going to get trolled, at least one of the greatest quarterbacks of all time is slaying the barbs.
BEATING TWITTER TO THE PUNCH
Tom beat Twitter to the punch and channeled his inner-Oprah in the process.
NOTHING TO SLUR HERE
The Buccaneers celebrated beating the Kansas City Chiefs in Super Bowl LV with an epic socially-distanced boat parade in Tampa. Brady, who was clearly over-served at the festivities, had a good time at his own expense. We love that he was in on the joke.
ARE WE THERE YET?
It took Tom exactly two weeks to get bored in the offseason. No wonder he hasn't retired yet.
YOUR BOY
Not only are we surprised that Buccaneers Tom Brady has a funny bone, but we're also intrigued by him being a Belieber. Who knew?
There may be five long months until the NFL picks back up again, but that's five short months for Tom Brady to crush it on Twitter. He's clearly having a blast and so are we.