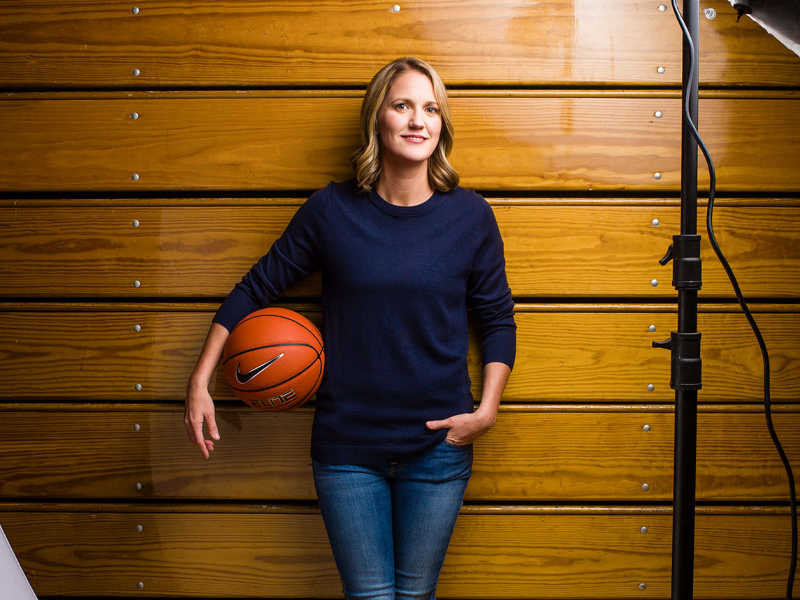 When UNC Tar Heels' Head Coach Courtney Banghart, has fifteen minutes to talk, you sit back, take notes and know that she's going to dish some big time life lessons that don't just apply to sports. Truth is, just about everything Coach Banghart has to say can be applied to just about everything we do.
Listen up. Coach is talking.
Don't Be Scared To Take Your Shot.
"I was at Dartmouth as a recruiting coordinator and a graduate student. When I got a call from the Princeton Athletic Director about potentially interviewing for the head coach job at Princeton, like most people you say Is that a job I can do?  I was really fortunate that someone sought me out so it's someone else saying, 'Yes you can.' I had been a high school coach for three years and I had been assistant coach at my alma mater, Dartmouth, for four. Technically, I had a low level of experience to get a job at a place like Princeton as a head coach. The AD who hired me at the time would say they were hiring potential over experience."
It's Better To Fail Than To Regret Not Trying.
"I remember thinking through that and talking to my industry peers and the question I got was, 'That could be career suicide. How do you know you're ready? Women don't necessarily recycle as often as men in our industry.'  It brought me to that crux that we all face at some point in our lives.  It was the fear of failure versus the fear of regret.  This might not work out the way I hoped or wanted versus the fear of regret of not trying. For me, the fear of regret of not trying in the industry I had spent ten years in was worth it. "
Women Have To Give Each Other Professional Second Chances.
"Women have made enormous strides and we have women in positions where they are hiring other women, but this was 2007 and back then there were more men in hiring roles, secondary roles…more women started to creep in. But for men, if it doesn't work out you recycle a little easier, because people that look like you are the ones doing the hiring.  If it didn't work out for a woman, it was very rare she could recycle.  People would say, 'Oh she lost her edge,' or, 'She wasn't good enough.' That very rarely happens on the men's side.  We're just a little bit behind.  I think we've made up a lot of ground, but there's still some work to do on the recyclability of each other. "
Success Has Little To Do With The Results And Everything To Do With Your Effect On Others.
"My first day, my first practice, was like one of those movie moments where you say to yourself, 'Well, here goes.' I had prepared for that first practice for hours.  I knew it to the minute, what needed to happen and the way I wanted it to go. I wondered if the people I'm leading knew how nervous I am for this moment?  Did they know how much I wanted them to be successful?  
I found solace in ultimately success was inspiring personal growth in others and infusing them with courage while developing relationships built on trust.  That actually matters so little about how much I knew about basketball, even though we doubt ourselves, I knew plenty about basketball.  But what gave me strength in a time of nervousness was those things: infusing courage, fostering personal growth and building relationships with trust. Those are things that didn't involve the sport.  Those involved me being authentic. "
You Can't Win If You Don't Take Care Of Yourself.
"You're in a competitive environment everyday. For people that aren't in that, they see game day. UNC Tar Heels game days are really fun, but those feel like isolated incidents.  People within the industry know that it's actually a fast moving environment and you're competing all the time. And as competitive as I am, that's been the part of the industry that's required the most of me to make sure that I take care of myself. That's through however you rest and recover, whether that's in the off-season, whether that's getting massages or working out, reading , quiet time, meditation, everybody does it differently.  But the drain of how fast it moves and how competitive it is is what makes collegiate athletics really challenging."
Winning Has Nothing To Do With The Results Of The Game.
"What's invigorating for me is not the competitiveness of it, but the shared journey.  People will ask how I am after a loss and my staff will say, 'She's fine.'  I'm not really fine, Any successful person will look at how things could have been different, but for me it's the shared journey that I get to have with people. And in college athletics, you chose them. They are people you chose. That for me, is invigorating."
Great Leaders Always Do This.
"Any time you lose in competitive athletics, (evaluation) happens more tangibly and noticeably than in other industries.  Any time we lose, I self evaluate.  I tell all of my UNC Tar Heels teams if your first reaction is to point inward, we have no choice but to be successful.  If your first reaction is to point outward, you're limiting yourself.  There's no other way.  Part of my job is to lead by example and point inward anytime. "
You Can Win All The Time, Even When You're Losing.
"You know you've made it when one player looks at you and smiles because you helped them do something they didn't know they could do. That happens all the time.  So if you worry less about the scoreboard and more about the interaction, you're actually having success all the time. "
The Key To Success Is Making Others Better.
"Growing up I was so competitive. I knew that in order to win I had to inspire greatness in others.  Whether it was soccer or basketball, which were two of my main sports, to be successful I needed the other players to be good. My competitiveness drove me to get the best out of other people. Now I know that's a really evolved leadership skill. At the time I was just competitive. "
Sports Is Not A Vocation. It's A Hobby. Or Is It?
"My parents never thought athletics was a vocation. Even when I was getting scholarship offers to Notre Dame or Boston College. I was down to Notre Dame, Boston College, or Dartmouth and my parents really encouraged me to go to Dartmouth because they said athletics was not a vocation. It was a hobby. Clearly I proved them wrong and I think they're happy about that."
Athletes Make Better Employees. Period.
"We have to change the vernacular amongst parent groups.  The purpose of sport is not to get a college scholarship.  A very small percentage of student athletes are going to get a scholarship, maybe 1%.  What you should be doing is going to the school that best fits you. The intangible skills you learn in competitive athletics or recreational athletics, not to mention the health benefits, those are not taught skills.  The intangible skills, lessons, examples, relationships, ability to work with others, those are not taught skills.  Those are critical skills.  That's why so many CEO's, parents or people in boardrooms, look back and they had some form of athletics. It's why PE is a requirement. 
The things you learn from being the best, the middle and not the best and having to work together for a common goal, they're not soft skills.  Soft skills you actually learn in college. You learn how to put the time in for something that isn't grabbing at your passion.  Learning how to communicate, work with other people , accept failure, learning how to try something, learning how to put the time in, those are critical skills. To me, athletics is a non-negotiable for my children."
The Lifelong Skills All Women Can Take From Playing Sports.
"Confidence is one of those things you can't read about, you get.  You can't talk about, you get.  You have to earn it. You have to see it. You have to feel it.  You have to go for it.  Going to a soccer practice when you're nine years old, passing it to your friend,  and scoring a goal, gives you a little bit of confidence.  A coach that inspires your personal growth versus critiques your weaknesses will lead to confidence.  I think confidence is such an underrated important skill that is learned, not given."
Follow Coach Banghart at: @courtneybanghart/Instagram
For more first person interviews check out our conversation with game changer Staci Slaughter, VP of the SF Giants.
Photo: @jeffwojtaszek