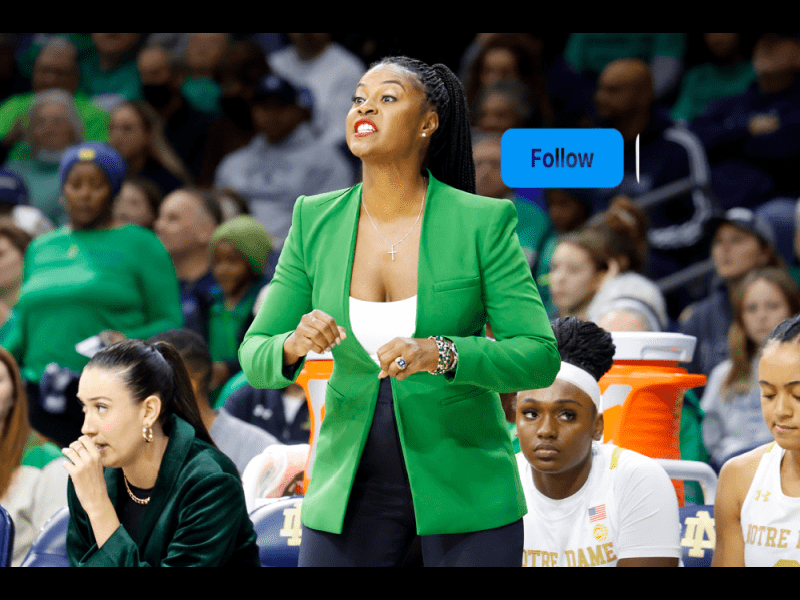 In honor of Women's History Month 2023, we're celebrating the sports world's best female head coaches. From the Las Vegas Aces' head coach Becky Hammon, who left the NBA for the WNBA to LSU's coaching legend Kim Mulkey, female coaches are scoring on and off the field or court.
Former athletes like Notre Dame head coach Niele Ivey and Duke Women's Basketball Head Coach Kara Lawson used their experience as players to pivot into successful careers as head coaches. And coaches like USC head coach Lindsey Gottlieb and New York Liberty head coach Sandy Brondello balance parenting and coaching with the grace of a WNBA star.
Despite the success of female head coaches only 33% of head coaches are women, down from 36% in 2019. That's why we're getting to know the female coaches dominating sports right now. In honor of Women's History Month 2023, here are 11 female coaches you should be following on Instagram now.
Image: Marcus Snowden/Icon Sportswire
Follow These Amazing Female Head Coaches
Las Vegas Aces Head Coach Becky Hammon
Hammon, the first full-time female coach in the NBA, left the San Antonio Spurs in 2022 to become the head coach of the Las Vegas Aces. The highest-paid coach in the WNBA, Hammon proved her worth. The Aces won the 2022 WNBA championship, Hammon's first season as head coach.
Hammon's Instagram is part #Momlife (Hammon is mom to sons Cayden and Samuel with partner Brenda Milano) and girl power coaching inspiration.
Duke Women's Basketball Coach Kara Lawson
Duke's sixth women's basketball coach, Lawson is a former WNBA and Olympic champion. Lawson selected as an assistant coach on Cheryl Reeve's staff for the U.S. Women's National Team that competed at the 2022 FIBA Women's World Cup, where she helped lead Team USA to the gold medal, in the summer of 2022.
Expect a basketball deep dive on her Instagram feed, plus some seriously cute dog snaps.
University of Notre Dame Head Coach Niele Ivey
A former All-American point guard for Notre Dame and WNBA star, Ivey became her alma mater's head coach after serving as an assistant to legendary basketball coach Muffett McGraw, who retired in 2020. Ivey's son Jaden was chosen fifth by the Detroit Pistons in the 2022 NBA Draft. Niele made headlines when she was unable to watch Jaden, a standout for Purdue, compete in the 2022 NCAA Tournament because Notre Dame was competing in the tournament as well.
University Of Maryland Head Coach Brenda Frese
A 20-year veteran of Maryland athletics, Frese is a two-time National Coach Of The Year. In addition to three Final Fours, 14 conference titles and a National Championship in 2006, Frese welcomed twins in 2008 making her just one of seven coaches to win a national championship and be a parent.
Family and basketball are equally represented on Frese's Instagram account. Her twins make an occasional appearance, too.
New York Liberty Head Coach Sandy Brondello
In January, 2022, the NY Liberty named Australian Olympian and former WNBA star Sandy Brondello the franchise's ninth head coach. A former National Coach Of The Year with the Phoenix Mercury, Brondello also led the team to a national championship in 2014. In her first season with the Liberty, she's already made big moves signing former Seattle Storm star Breanna Stewart to the team.
Brondello shares her family life as well as nods to her native Australia on her Instagram feed.
Minnesota Lynx Head Coach Cheryl Reeve
A three-time National Coach Of The Year, Reeve is the USA National Team Head Coach as well as head coach and President of Basketball Operations for the Minnesota Lynx. Reeve has the winningest percentage of any WNBA coach and has led the Lynx to four WNBA championships.
Reeve's Instagram account is part podcast clips from "The Cheryl Reeve Show" and social justice callouts to help Minnesota charities that support the homeless.
Dallas Wings Head Coach Latricia Trammell
Former LA Sparks assistant coach Latricia Trammell begins her first season as head coach for WNBA franchise the Dallas Wings in 2023. Her oversight of the Sparks defense put four players on 2020 WNBA All-Defensive Teams, including 2020 WNBA Defensive Player of the Year Candace Parker.
Trammell's Instagram feed takes fans on the road with her as an analyst for college games.
USC Women's Basketball Head Coach Lindsey Gottlieb
As the head coach of Cal Berkley's women's basketball program, the New York native took the Golden Bears to seven national tournaments. Then, the NBA came knocking. Gottlieb became the first female NCAA coach to make the jump to the NBA when she joined John Beilein's staff for the Cleveland Cavaliers. In 2022, Gottlieb became the head coach of USC's women's basketball program. The mother of two often shares photos of road trips with her team and her kids on her Instagram feed.
LSU Head Coach Kim Mulkey
A three-time NCAA champion and Pan-American gold medalist as a player (1984), LSU Tigers head coach Kim Mulkey is the first person to win a national championship as a player, assistant coach and head coach. An inductee into the Naismith Memorial Baskerball Hall of Fame, Mulkey won three national championships as Baylor's head coach (2005, 2012, 2019). In 2021, Mulkey announced she was departing Baylor after 21 seasons to become LSU's new head coach.
University Of South Carolina Head Coach Dawn Staley
In Staley's 14 seasons at the helm of South Carolina's women's basketball program, she's won two national championships (2017, 2022) and has taken the team to four NCAA Final Fours out of the last seven seasons. A revered head coach, Staley is also one of the most decorated WNBA athletes and was inducted in 2013 to the Naismith Memorial Basketball Hall Of Fame.
University Of Arizona Head Coach Aida Barnes
A graduate of the University of Arizona, Barnes became the Wildcats' head coach in 2016. After playing 12 seasons in the WNBA, Barnes pivoted into coaching including a stint in Italy where she honed her skills in anticipation of a return to the U.S.