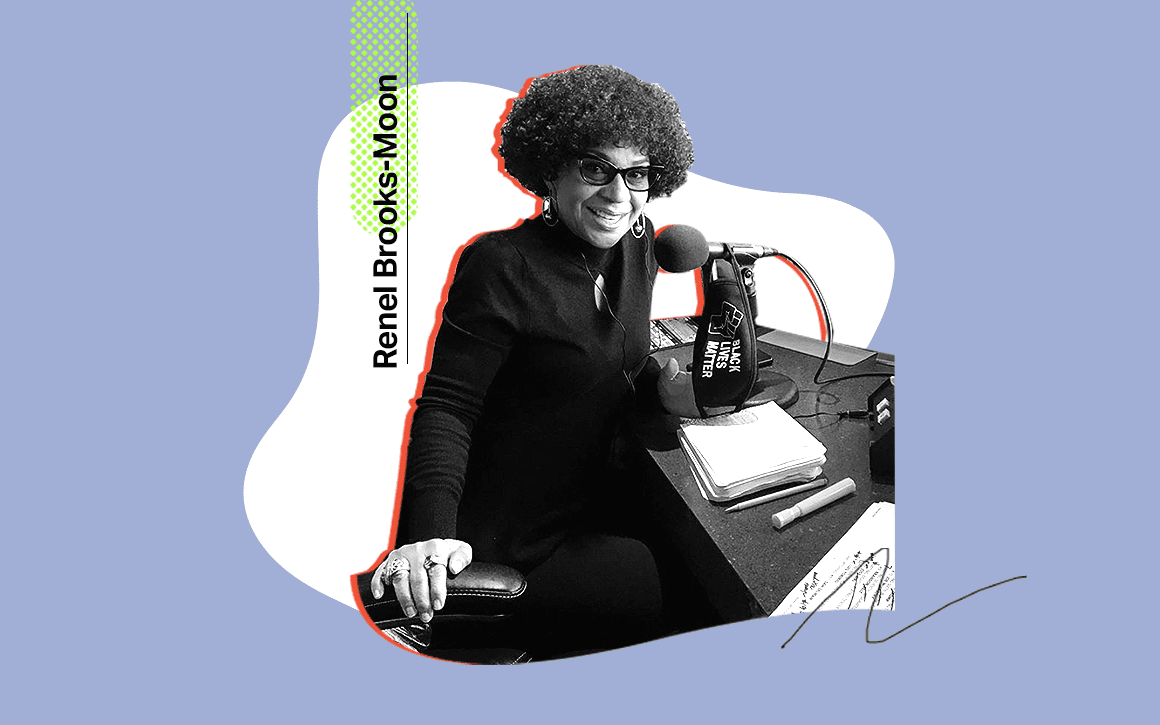 Whether or not one is a San Francisco Giants fan, a radio listener, or just a proud San Franciscan, they know Renel Brooks-Moon as the voice of San Francisco, both literally and figuratively. Despite my own transplanted status in Southern California, my Northern California roots are still strong. Naturally, I was giddy with a side of anxious to speak to the woman whose voice is the narrator of my childhood memories.
Renel Brooks-Moon is no stranger to being greeted by giddy with a side of anxious. As the San Francisco Giants' second female P.A. announcer and as Major League Baseball's first female African American announcer, not to mention her thirty year career in radio, Renel is keenly aware of her professional good fortune and of her prime position to use her voice to be a voice.
I spoke to Renel on the tail end of a history-making week that had MLB's first female full-time coach, the Giants' Alyssa Nakken, taking the field. During the same game, Giants' manager Gabe Kapler became the first MLB manager to kneel along with his players. Renel was still beaming with pride, overcome with emotion, while being frank about what the Giants need to do to continue to make social change a priority. We even talked shoes, just for good measure.
Meet Renel Brooks-Moon: voice of the Giants, voice of The City, sports fashionista.
xo,
Meredith
On Witnessing Change In Real Time
"The exhibition game with Oakland was really emotional for me.  I was in no way shape or form prepared.  I had no idea that Gabe was gonna sneak Alyssa in in the 7th inning and I had no idea that he and some players were going to take a knee.  I openly wept.  I was so deeply moved. 

Our new manager Gabe Kapler has been so vocal, not just on social media, but in the community.  Since the pandemic, and pushing BLM on social media. And he's not just talking about it. He's active.  Nevertheless I was stunned to see him take a knee as well as some of our other players. "
Why She's Proud To Be A Part Of The Giants
"As a black woman in MLB and as a woman in MLB, to have those two historic things happen, it meant everything to me.  I didn't know I'd see it in my career or in my lifetime.  I've never been prouder to wear the orange and black and to represent this team."
How She Feels When Fans Go Low
"I expect the controversy. It's not the first time . We've been hearing this for the last two years now, "Shut up and dribble" and all that.  For me, I always think about what my parents went through and what my grandparents went through. I'm reminded of their courage and strength. And all the adversity my parents and grandparents went though, a little hate on Twitter is not going to stop me. And it's clearly not going to stop Gabe. 

It is what it is unfortunately in this country.  If I can just get the message to one person on Twitter that social justice is a human issue, it's not a partisan or political issue.  I hate that the message gets lost, but If I can get one person every day on my Twitter to see or have a change of heart or really understand what this movement is all about, then that's what I will continue to do.
I come from civil rights activists. We expect backlash. We expect hate.  The lesson I've learned from my folks is that it must strengthen us."
Change Can't Be All For Show
"The main thing that I've been telling the Giants is that it can't be just Tuesday night for the home opener.  It has to be a long term commitment and they've assured me that it is."
On What MLB Fans Can Do To Support Change
"It's important to explain to white folks why we need white folks in this fight with us. We didn't invent racism so it's not our job to fix it.  But I've been having a lot of conversations about what it means to be an ally and educate the fan base, which is mainly white folks, about the movement. Again, it's a humanitarian issue, not a political one.  There are so many resources so I've been encouraging them [the Giants] to educate the fan base.

But most importantly for me, I need to see a big change in MLB and with the Giants in hiring practices.  The front office is sorely lacking in diversity.  Every boss I've had in 20 years has been a white man.   MLB also needs to have more black managers. In 2020, to have just Dusty and Dave is ridiculous to me.  There needs to be more coaches and managers, more GMs of color.  That is where the focus needs to be: diverse hires and educating the fan base on how they can be an ally."
Advice For Younger Women Entering Male Dominated Careers
"Every job I've ever gotten has been because of a relationship I've made along the way.  It's cliché but put yourself out there, do not be defeated. Don't take no for an answer.  Take entry level jobs or an internship. Arm yourself with as much knowledge as possible. Never stop learning. I tell all my students, never stop learning.  Be encouraged.  Find other women who are doing what you do and reach out to them."
Renel Brooks-Moon, Fashion Influencer
"My wardrobe has become a thing over the years because I'm on the field pre-game and do the show "Forever Giants" and I'm known for it and for my shoes. It's really fun to have that banter back and forth with the fans.  I have 20 years of orange and black clothing.  I have developed a reputation as a Giants fashionista and I'm proud of it."
Follow Renel Brooks-Moon.