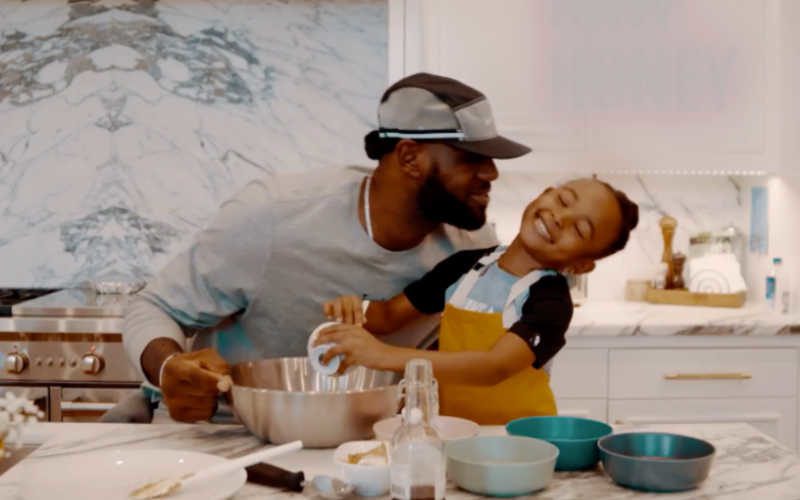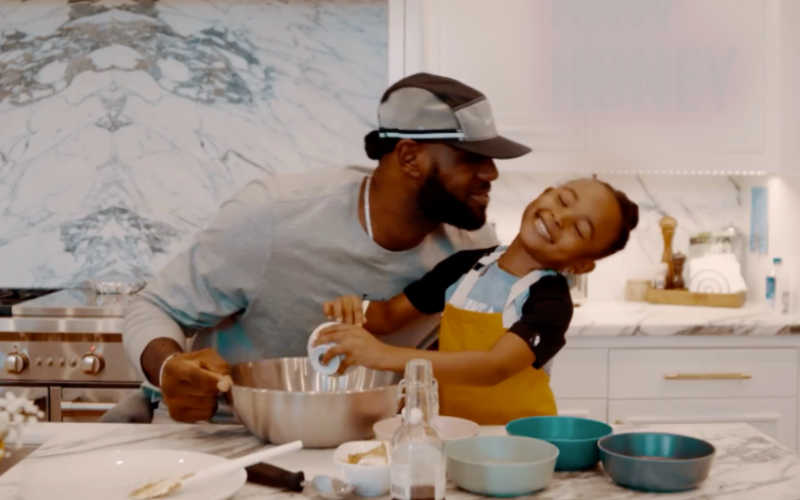 When it comes to parenting, it makes perfect sense that star athletes are also complete dad goals. Athletes like Juventis' Cristiano Ronaldo, Olympic Gold Medalist Michael Phelps and NBA star Steph Curry approach everything with excellence. Naturally, they apply that kind of perfectionism to parenting.
But what makes dads like the Rockets' Russell Westbrook, the Lakers' LeBron James and Tom Brady inspirational dads, isn't just that they are present and involved in their kids' lives. After all, parenting is a dad's job too. Right?
What makes these pro athletes serious dad goals is the fact they seem dedicated to raising good kind humans who aren't just riding mom and dads' superstar coattails. And they willingly share the highs and lows of their parenting journeys, offering inspiration, guidance and relatability, to those of us following along.
We're inspired by these dads who makes sports, and parenting, look good.
Dwyane Wade Is A Standout Amongst Athletes Who Are Dads
The former Miami Heat star is dad to four kids, Zaire (18), Zaya (12), Xavier (6) and Kaavia James (20 months.) He is also raising nephew Dahveon Morris (18.) And while Wade has always celebrated his family, he earned serious dad points when he publicly showed support of his daughter Zaya's coming out earlier this year as transgender. He told GMA:
"As parents, we put our hopes and we put our fears on our kids, and with Zaya, we decided to listen to her. She's leading us along this journey."
The Warriors' Steph Curry Is An MVP Dad
The Warriors star is the father of three, Riley (7), Ryan (5) and son Canon is one years old. Steph and his superstar wife Ayesha Curry make family a priority with their kids being regular fixtures on the sidelines at Warriors' games. Steph uses his social media to document family camping trips to the backyard, holidays with the Currys and family Halloween costumes.
Steph puts the same energy into raising his three kids that he does dominating the NBA. He told Pop Sugar:
"They give you a reason to wake up in the morning, regardless of whether work is going well or not. Your biggest responsibility, obviously, is being a parent, and it's just so much fun every single day when they change so fast and you're trying to keep up. You get to share so many experiences with them and I'm enjoying every minute of it."
Ronaldo Is All In With His Four Kids
Juventis star Cristiano Ronaldo is known for his epic soccer skills, but he's also a dedicated dad to his four kids, Cristiano Jr. (9), twins Mateo and Eva (3) and daughter Alana is 2 1/2. And while he has kept the identity of his first three children's mothers, all three were born by surrogate, the Portuguese soccer star shared daughter Alana with girlfriend Georgina Rodriguez.
But even though Ronaldo is the first billionaire soccer star, he doesn't want his kids to stop working hard. He told TV1:
"What I try to pass on to the kids is that with hard work and dedication, you can achieve anything you want."
LeBron's James Gang Always Support Each Other
16-year-old Bronny, 13-year-old Bryce Maximus and 6-year-old Zhuri make up LeBron and Savannah James' "James Gang." LeBron, who never knew his own father growing up, is a dedicated father often seen on the sidelines of his son's basketball games or baking with Zhuri on her You Tube Channel.
But even though LeBron's children will never know the financial struggles he endured as a child he knows they each still have to carve out their own paths. On Season 2 of "Kneading Dough" Le Bron said:
"How do I raise my kids knowing that they will never feel or understand what their father went through? But you just give them life goals, you give them life challenges, and at the end of the day, they're going to have to walk their own path. Just like we did. No matter if you came from the top of the top or the bottom, you still have a road to travel."
Tom Brady's Kids Challenge Him To Be The Best
The 6-time Super Bowl champ is a total champ when it comes to raising his three kids Jack (12), Ben (10) and Vivian (7). But when Brady's son Bed revealed to his superstar dad that he had no interest in sports, Brady had to re-assess in order to connect with his son. He said:
"Parents may feel a twinge of sadness at having to give up their fantasy vision of what their child would be like. But that's more than made up for by the wonder of loving their real child."
Michael Phelps Is An Amazing Role Model To His Three Boys
The most decorated Olympian of all time, 28-time Olympic medalist Michael Phelps has found the only thing more challenging than swimming is keeping up with three little boys. But Phelps, who was raised by his mother, is having the time of his life raising Boomer (4), Beckett (2) and baby Maverick (9 months) with wife Nicole Johnson. And while he admits the first six months of a baby's life can be really challenging he offers this advice to other parents:
"Just go with the flow and whatever happens happens. You're going to learn along the way and through the process. Try not to beat yourself up too much."
Russell Westbrook Is Complete Dad Goals
The Houston Rockets star is known as a hothead on the court, but when it comes to his three kids, Noah (3) and almost two-year-old twins Skye and Jordyn, Westbrook is a total softie. He and wife Nina, whom he met when the both attended UCLA, are not too busy with their brood to stay connected to each other while raising a happy family. But as one young fan, who repeatedly touched Westbrook during a game found out, Russ thinks it's up to parents to manage their kids. He even scolded the boy during the game and lectured the boy's dad on parenting. Westbrook said:
"I just let him know, you've got to control your kids…You can't just have your son hitting random people. I don't know him, he don't know me."
Russell Wilson Is A Hands-On Dad
The Seahawks' superstar quarterback shares daughter Sienna with wife Ciara. But Wilson has also fully embraced the role of stepdad to Ciara's son Future with her ex, rapper Future. And while Ciara and Wilson are awaiting the birth of their second child together, Wilson knows that being a stepdad is the ultimate form of love. He told Ebony:
"It's easy to love somebody that's blood and everything else, but when you can love somebody just like it's your own child and everything else, that's what real love is like."
Kyrie Irving's Daughter Brings Out His Softer Side
The vocal Nets star has been outspoken about the NBA's plan to re-start the 2020 season, but Irving shows his softer side when speaking about his 4-year-old daughter Azurie. He even missed a basketball game to witness her birth. Irving, whose own mother died when he was just four years old, shared his joy when Azurie was born writing on Instagram:
"I love you so much, and my heart grew the first time I felt your heart against mine. Mommy, I gave her your name because I know you will bless her and our family the same way you blessed me. I love you."
Barcelona Star Lionel Messi Credits His Children With Changing His World
Ever since the Argentine soccer star was younger he always dreamt of being a dad. He got his wish. He and his wife, Atonela Roccuzzo are parents to three boys: Thiago (7), Mateo (4), and Ciro (2). And while Messi (whose real last name is Cuccittini) is one of the highest paid soccer stars in the world, his children keep him grounded and humble. On parenting he said:
"You grow and you learn. You gather experience in all aspects of life, on and off the field. But, as a human being, having three children changed my perspective on life, my way of thinking and it also helped me grow." 
We love seeing these dedicated dads in action!