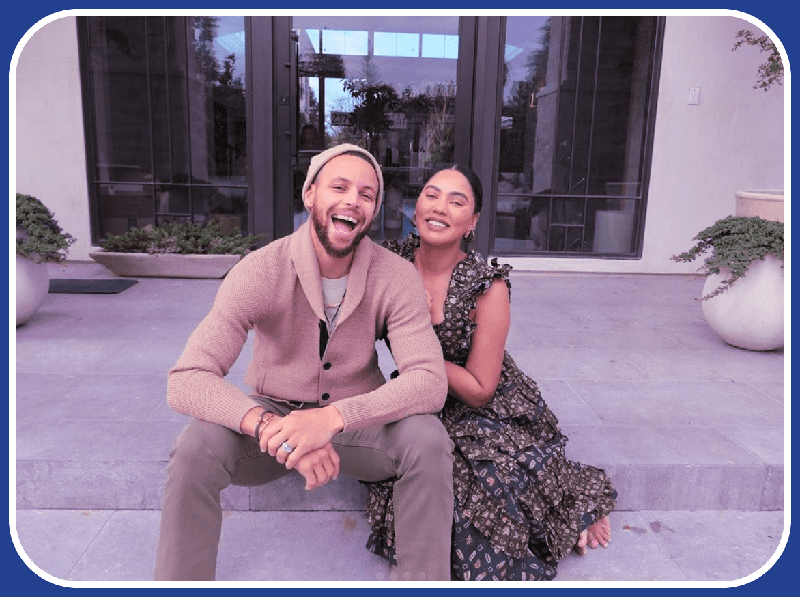 When Tom Brady and Gisele Bündchen announced this fall they had quietly divorced, the news of one of the most celebrated sports power couple's demise sent shockwaves through the sports world.  Married for thirteen years with three children including Brady's 15-year-old son Jack from his relationship with actress Bridget Moynahan, Gisele was a fixture on the sidelines of Patriots of Buccaneers games. 
Both had successful careers and gave fans FOMO sharing photos of every off-season family trip to the couple's compound in Costa Rica.  They seemed to have it all and yet, their marriage couldn't sustain Brady's love of football.  After the 45-year-old NFL legend retired and then un-retired, Gisele had apparently had enough.  Just like that, one of sports most notorious power couples was no more.
What constitutes a sports power couple?   Pair a big-time, big-name pro athlete with a partner whose crushing their own sport, career or even parenting and you've got two powerhouses under one roof, which may be part of the problem.  Being the partner of a professional athlete means having a partner who's on the road for long stretches of time, whose schedule may not be their own.  That means parenting solo for much of the year and benching your own goals and needs.
The fate of Tom and Gisele's relationship is more common than not amongst athletes.  The divorce rate in America is 50%. For pro athletes, the rate climbs higher to 70%. Keeping a relationship together is hard enough.  Trying to stay connected while competing with the demands, travel and intensity of a pro athlete's career is nearly impossible.   Athletes see a spike in divorce just after retirement when an identity crisis is likely to kick in just at the moment an athlete's partner is thinking: It's my time now.
Sports power couples like Steph and Ayesha Curry, Megan Rapinoe and Sue Bird and Kate Upton and Justin Verlander seemed to have found the secret to keeping their relationships alive. Even the biggest love-cynic can't help but be inspired by the romance of some of the biggest names in sports. They're dedication, romance, and commitment to one another has us believing in love. 
Photo: @AyeshaCurry/Instagram
9 Sports Power Couples Who Will Make You Believe In Love
Steph and Ayesha Curry
By 2008, Ayesha had moved to Los Angeles to pursue a career in modeling and acting. Steph was in town for the ESPY's, taking home the Breakout Athlete of the Year Award, and reconnected with Ayesha. Despite her "no athletes" policy, the two have been together ever since.
They are parents to two daughters Riley (10) and Ryan (7) and four-year-old son Canon Jack.
JJ and Kealia Watt
Watt, who recently retired from the N.F.L., and wife Kealia Ohai Watt – currently a N.W.S.L. free agent – are each powerhouse athletes in their own right. But what makes these two such an impressive twosome is their community efforts off the field and pitch. JJ famously raised $37 million to help Houston residents affected by Hurricane Harvey and the two continue to help victims of gun voilence, including Houston residents affected by the Sandy Hook Shooting in 2012.
The sporty couple are also new parents. The two welcomed son Koa Watt in October, 2022.
Sue Bird and Megan Rapinoe
An Olympic love story worthy of a feature film, former Seattle Storm point guard Sue Bird and USWNT superstar Megan Rapinoe first met backstage at a photoshoot for the 2016 Summer Games in Rio de Janeiro. In October, 2020, the couple got engaged. And while each has a Hall Of Fame-worthy sports resumé, Bird is the WNBA's all-time scoring leader and Rapinoe is a two-time FIFA World Cup champion, the two have combined their influence and passion to become one of sports' most political power couples.
Rapinoe was instrumental in the USWNT's fight for equal pay, while Bird has been an outspoken force to improve pay disparity and work conditions for WNBA players.
Dwyane Wade and Gabrielle Union
One of the sports world's most public power couples, the actress and the former Miami Heat star first met in 2009 before marrying in 2014. Seemingly inseparable, Wade and Union are family goals as the two are raising daughter Kaavia along with Wade's children from his first marriage, Zaya and Zaire. The couple is also raising Wade's nephew Dahveon. Wade also father to son Xavier from a previous relationship.
The only thing that overshadow's Wade's iconic 13-year-career in the NBA and Union's indelible acting career (who hasn't watched "Bring It On" multiple times?), is the couple's public support of the LGBTQ+ community. Inspired by daughter Zaya's transgender journey, Wade and Union have become some of the most public allies for the LGBTQ+ community in the sports world.
Kate Upton and Justin Verlander
The Cy Young winner and the supermodel, each at the top of their career game, give couple goals a good name. Notoriously supportive of one another (Kate's a fixture in the stands at Justin's games), the two nearly missed their Tuscany wedding due to the 2017 World Series – the first-ever win in Astros franchise history.
Verlander, who became a free agent after the 2022 MLB season, will join the NY Mets for the 2023 season.
The couple are parents to daughter Genevieve, age 3.
Gerrit and Amy Cole
The college sweethearts met at UCLA, she a softball superstar and he the baseball team's starting pitcher since his freshman year. Cole made Major League Baseball history, signing a record-breaking contract signing a 9-year, $324-million contract in 2019. Since then the couple has welcomed two sons, Caden Gerritt Cole in 2020 and Everett on January 2, 2023.
LeBron and Savannah James
Though Los Angeles Lakers star LeBron James (does he need an introduction?) continues to break NBA records after recently becoming the NBA's all-time scoring leader, it is LeBron and wife Savannah's two-decade love story that might be his biggest accomplishment.
High school sweethearts who met in Akron, Ohio, they've been inseparable ever since their first date at Outback Steakhouse. Savannah calls LeBron "humble" and says he treats her with "so much respect". LeBron says Savannah is "the real MVP", even calling her the "all-time scoring leader" when he recently surpassed Kareem Abdul Jabbar's long-standing record.
Jrue and Lauren Holiday
Despite their success in sports, philanthropy has been where this power couple has had the biggest impact. In 2020, Jrue pledged the remainder of his NBA game checks to those affected by COVID-19 shutdowns and both have continued to support Black-owned businesses.
Serena Wiliams and Alexis Ohanian
Tennis legend Serena Williams may be one of the few sports superstars known by her first name only, but Serena's husband, Reddit co-founder Alexis Ohanion, has carved his own iconic path off the court. Both have their own venture funds dedicated to investing in diverse founders. The two are also love/loving parenting. They welcomed daughter Olympia in 2017.
Serena "transitioned away" from professional tennis in 2022 in hopes of giving Olympia a sibling. She's also focused on building her venture fund, Serena Ventures.