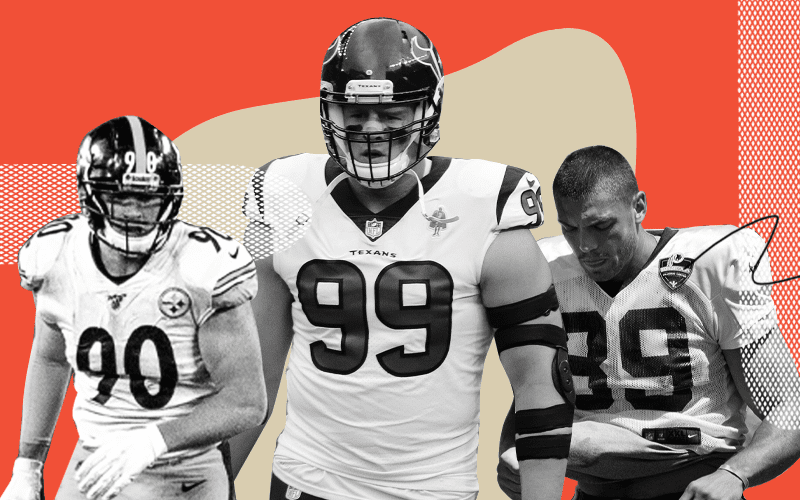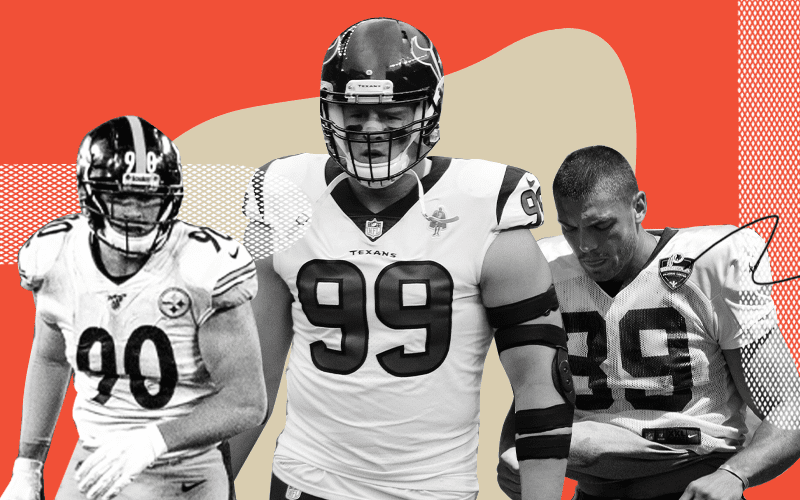 The NFL's motto is "Football is family," but for these NFL stars whose siblings play too, football really is family. Chalk it up to family values and some seriously amazing genetics, but families like the Texans' J.J. Watts' who has two brothers playing the NFL, are not rare. Truth be told, there are a lot of NFL brothers in the NFL.
Some football families are multi-generational, like the Panthers' Christian McCaffrey or former Rams star Clay Matthews, both of whom had fathers in the league and currently have siblings playing, too. There are cousins, like the Dolphins' Adrian Colbert and the Eagles' Marquis Goodwin.
But an even larger group of players have brothers playing at the same time, which must make for some interesting family dynamics at the pre-Thanksgiving family football game. And it must mean mom and dad have to choose their team carefully so as not to risk a favorite team being mistaken for a favorite child.
If you're wondering if siblings have ever faced each other in the Super Bowl, we wondered that too. The answer to that question, at the end of this post. Until then, let's talk about our favorite NFL stars whose siblings play too.
J.J. Watt's Brothers Are In His League
The Texans' J.J. Watt is known for his humanitarian efforts, raising over $37 million in relief after Hurricane Katrina, but he also comes from a serious NFL family. Brothers Derek and T.J. both play for the Steelers. And since the Texans are supposed to play the Steelers on September 27th, 2020, except some major close-ups on Connie Watt to figure out which team she cheers for.
The McCourty Twins Play For The Same Team
Devin McCourty, the Patriots' Pro Bowl safety, can always count on his teammates. That's because his brother James is a cornerback on the same team. James was drafted in the 2009 draft while Devin was a first round pick in 2010. Both brothers will be returning to the Patriots in 2020. Devin recently shared that he and wife Michelle's had suffered a stillbirth with their third child.
The Seahawks' Shaquill And Shaquem Griffin Make History
Shaquem Griffin has been without his left hand since he was four years old. That's never stopped him from excellence on the football field and he was one of the standouts at the 2018 NFL Draft Combine where he ran one of the fastest 40-yard-dashes of all time despite originally not being invited. The Seahawks were so impressed with Shaquem they drafted him to play alongside his twin brother Shaquill who already played cornerback for the team. Shaquem is the first one-handed player to play in the NFL.
The Kelce Brothers Root For Each Other
Chiefs star tight end Travis Kelce first faced off against his brother Jason, who plays for the Eagles, in 2017. Their mom, Donna, had a special game day jersey made, that blended both her son's jerseys. These days rooting for either of the Kelce is a pretty safe bet. Travis is arguably one of the best tight ends in the league, not to mention a Super Bowl champion. And Jason, a Super Bowl champ as well, is a three-time Pro Bowler whose making a serious case for a future in the Hall of Fame.
Four Of Five Gronkowski Brothers Played In The NFL
The Buccaneers' Rob Gronkowski isn't the first "Gronk" to make headlines in the NFL. The Gronkowskis are the 25th NFL family to have three or more brothers playing simultaneously. In addition to Rob, brothers Chris, Dan and Glenn all played in the NFL. Naturally, we're wondering what it was like to feed all those athletes in one household. Someone give their mom, Diane Walters, a medal. And since the fifth Gronkowski brother, Gordie, played Minor League Baseball, it's safe to assume she's earned one.
Clay Matthews' Family Is Filled With NFL Stars
Clay Matthews III, the Packers' longtime outside linebacker, who spent last season playing for the Rams is the son of Clay Matthews Jr. The elder Matthews played 18 years for the the Browns and the Falcons. Matthews Jr's brother Bruce (Clay's uncle) played 18 years for the Houston Oilers/Tennessee Titans. Clay's brother Jake currently plays for the Atlanta Falcons. And two of Bruce's kids played in the NFL as well with his son Jake still playing for the Atlanta Falcons. No wonder why the Matthews' are referred to as "The Kennedys of the NFL."
Other NFL Stars Whose Siblings Play Too
There are also many other NFL siblings currently playing like Maurice and Mike Pouncey, Terrell Tremaine and Trey Edmunds, CJ and AJ Moore, Eric and Mykal Kendricks, Kendall and Kyle Fuller, as well as Justin and Eric Reid.
None of these NFL siblings has faced one another in the Super Bowl, which is probably best for their families. In particular, their moms.