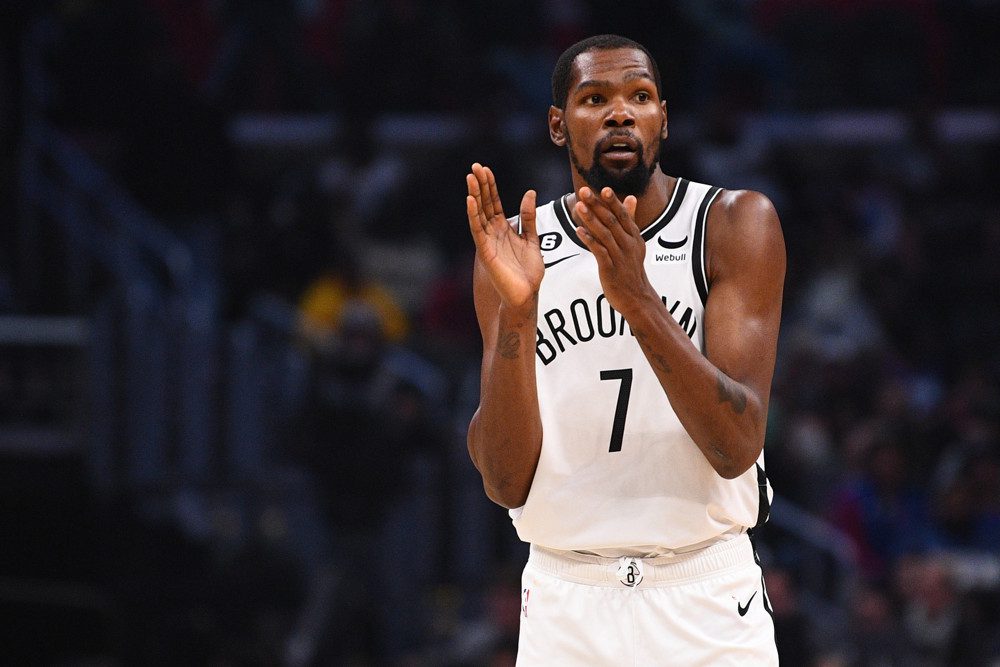 A day before the NBA trade deadline, the Brooklyn Nets sent shockwaves through the league with a blockbuster Kevin Durant trade. Just days after teammate Kyrie Irving requested a trade and got sent to the Dallas Mavericks, the Nets traded superstar Kevin Durant. The 34-year-old, two-time NBA champion joins Chris Paul, Devin Booker and Deandre Anynton, creating one of the most talented super teams in the Western Conference.
KD's time in Brooklyn was nothing short of tumultuous, Kyrie's vaccination stance and suspension for sharing an antisemitic post mostly to blame. With Durant, Irving and James Harden joined the Nets in 2019 hoping to bring a "big three" (and a championship) to New York. The trio, however, failed to deliver anything past a playoff semi-final loss to the Milwaukee Bucks in 2021. Harden quickly requested a trade and swapped places with beleaguered Philadelphia Seventy Sixers star Ben Simmons.
Irving requested a trade last spring, only to "opt-in" in June with a newfound commitment to the Nets. Durant also requested a trade over the summer, but seemingly mended fences with the Nets front office before the 2022-2023 season start. But it was Kyrie's antisemitic post this fall, and his following suspension, that was the nail in the coffin for Kyrie and the Nets. Just before the trade deadline, leaving the Nets little time to shop for the best deal possible, Kyrie requested a trade. Though he hoped to land in Los Angeles and join former Cavaliers teammate LeBron James on the Lakers, Tsai instead traded Kyrie to the Mavericks where he'll join the teams' 23-year-old dynamo Luka Doncic.
Draymond Green Calls Out Joe Tsai For Not Trading Kyrie To The Lakers
With the writing on the wall the Nets made a blockbuster move, sending KD and T.J. Warren to Phoenix in exchange for Mikal Bridges, Cameron Johnson, Jae Crowder, four unprotected first-round picks and a 2028 pick swap. The trade sent shockwaves through the league, with fans and players quick to claim the best team in the West had just been formed.
KD, who has missed his last 14 games due to injury, hopes to make his Suns debut right before the February All-Star break, though he confirmed he won't play in this year's All-Star game. Durant needs more time to rehab his knee, which means fans are going to have to wait a little bit longer to see if the Suns or the Nets won the Kevin Durant trade.
Reactions To The Kevin Durant Trade
Kyle Kuzma Bashes Durant's Late-Night Trade
Bengals Star Ja'Marr Chase Has Questions
Miami Dolphins Wide Receiver Tyreek Hill Is Off To Play Video Games
While You Were Sleeping, Donovan Mitchell
Rams Cornerback Jalen Ramsey Makes A Prediction
Chicago Bulls Center Andre Drummond Is Sure The NBA Is Scripted
A Now A Word From Draymond Green
Kyrie Irving Reacts To Kevin Durant Trade
Image: Brian Rothmuller/Icon Sportswire