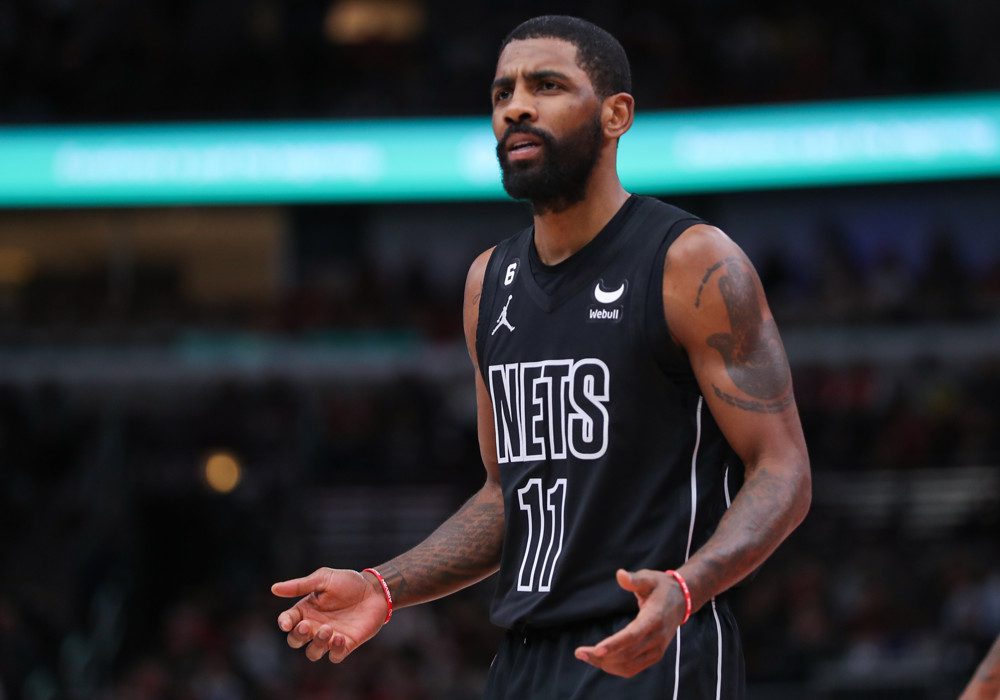 Los Angeles Lakers star LeBron James has other things on this mind than the Kyrie Irving trade. James had hoped to reunite with his former Cavaliers teammate, only to have Irving land elsewhere in the West. The two will face each on the court, but they'll be competitors instead of teammates. Here's what went down.
On Friday, Brooklyn Nets star Kyrie Irving requested a trade.  The second time Kyrie requested a trade from the Nets, Irving also requested a trade last spring only to "opt-in" last June. Irving informed the Nets he wants out much to the surprise of the organization and his teammates – including superstar Kevin Durant. This marks the second time Kyrie has left former Cavaliers teammates, LeBron James, in the lurch.
Kyrie Irving Trade To The Lakers Was LeBron James Approved
Kyrie's tenure in Brooklyn was nothing short of rocky despite the promise of a Kyrie/KD-led super team. Unable to play most of last season due to his COVID-19 vaccination stance and starting the 2022-2023 season with a suspension following an antisemitic social media post, Kryie's time in Brooklyn will be remembered more for controversy than for wins. Sadly, the team is currently fourth in the East – their best showing since Kyrie came to town.

Short of Steph Curry few players have better handles than Irving, but Kyrie has a long history of being his own worst enemy.  A self-proclaimed "seeker", Irving has been known to share information without fact-checking, from his 2017 comments that the Earth is flat to this season's antisemitic post. A reluctance to apologize has earned Kyrie a reputation of being more trouble than he's potentially worth. Even Nike dropped Irving's lucrative shoe deal this year after he remained steadfast in his antisemitic sentiments. (For the record, Kyrie insists he's not antisemitic and was just "sharing" information).

Not long after news of Kyrie's trade request, first reported by The Athletic, Lakers star LeBron James tweet'd "👀 👑", causing some to speculate Irving wanted to join James – his former Cavaliers teammate, in LA. 
The Clippers quickly entered the conversation, which would have reunited Irving with former Cavaliers assistant coach Ty Lue (now the Clippers head coach) in hopes of creating their own big three with  Kawhi Leonard and Paul George. 
Kyrie Gets Traded To The Dallas Mavericks
As of Sunday, ESPN reported the Dallas Mavericks have made a deal to acquire Kyrie in exchange for Spencer Dinwiddie, Dorian Finney-Smith, a 2029 first-round pick and second-round picks in 2027 and 2029. Nets teammate Markieff Morris will join Kyrie in Dallas.  
Kyrie's trade request began with a cryptic tweet from LeBron and ended with the same.  "Maybe it's Me," LeBron posted as news broke that Kyrie had jilted him once again. 
For Kyrie Irving Timing Was Everything
Kyrie described last year's Nets locker room as filled with players "halfway-in".  This year, the team is locked in with all eyes on the playoffs.  But Kyrie's trade request last season and following suspension this season, made the rapport between he and the Nets front office untenable.  By pushing for a trade this close to Friday's trade deadline, Irving forced the Nets to make a move even if they didn't receive a player of Kyrie's caliber in return.  
As for LeBron, he admitted he was "definitely disappointed" the Nets sent Irving to Dallas instead of Los Angeles, but he's moved on. With Kareem Abdul-Jabbar's 39-year-old all-time NBA scoring record just 36 points away, King James has something else on his mind.
Image: Photo by Melissa Tamez/Icon Sportswire