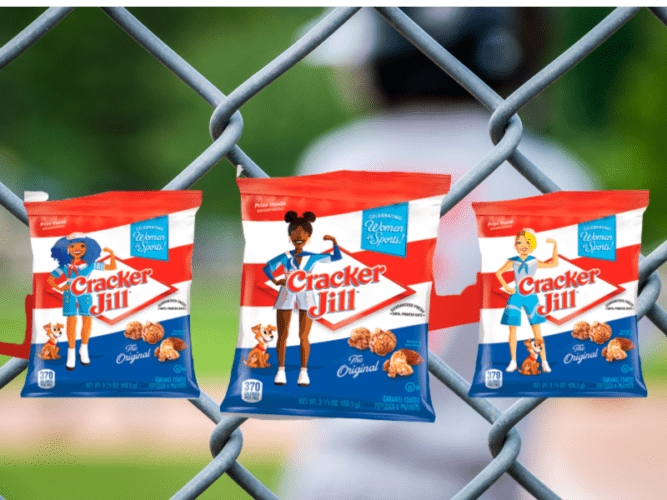 Move over Cracker Jack, there's a new kid in town and her name is 'Cracker Jill'. Frito Lay announced it was updating the 125-year-old Cracker Jack character with a new mascot, created to inspire and celebrate girl's and women's sports. The five different Cracker Jill characters, each with her own distinct skin color and body type, were designed by artist Monica Ahanonu to depict the most-represented ethnicities in the US.
If you're a Cracker Jack fan and you're on the hunt for a bag of Cracker Jill, look no further than your local ballpark this summer. The five different Jill characters will be available throughout the 2022 Major League Baseball Season. A donation of $5 or more to the Women's Sports Foundation also gets you one of the limited-edition bags. Donations can be made through CrackerJill.com.
Cracker Jill Shows Her Support Of Women's Sports
Cracker Jill herself has already gotten in the game, donating $200,000 to the Women's Sports Foundation to support research, financial assistance and community outreach.
"We've been so inspired by how girls and women are changing the face of the game, so in this spirit we introduce Cracker Jill to show girls that they're represented even in our most iconic snacks."

Tina Mahal, vice president of marketing at Frito-Lay North America.
Normani Updates The Cracker Jill Theme Song
And while the beloved snack food got a new look, pop star Normani was tasked with re-imaging the classic ballpark theme song Take Me Out To The Ball Game. The former Fifth Harmony songstress grew up an athlete, participating in gymnastics as a kid, and celebrated the opportunity to remake the classic baseball theme song with her own personal "flare".
The 90-second commercial created to introduce Cracker Jill to the world also features celebrated female sports figures like 18-year-old tennis star, Coco Gauff, and wrestler Heaven Fitch, among others.
Fans who have been eagerly awaiting Normani's first solo-studio album may have to wait a little bit longer. The 25-year-old singer's album isn't done yet, but she promises "it'll be worth the wait." Until then, head to your nearest MLB stadium and grab a bag of Cracker Jill.